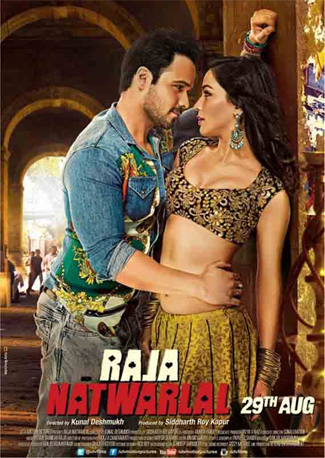 Directed by Kunal Deshmukh, Raja Natwarlal, which opens on August 29th, stars Emraan Hashmi. The film also stars Pakistani actress Humaima Malick, who is making her Hindi film debut. Well-known in Pakistan for her television roles, she has also starred in the dramatic and critically acclaimed film Bol. She makes the leap to Bollywood with Raja Natwarlal, in which she plays a dancer Jeena, who is Emraan Hashmi's love interest.
We got a very quick 5 minutes to chat with the actress about her experiences working on Raja Natwarlal. Check it out.
The actress says that it was the hero of the film that was one of the biggest reasons she said yes to the role in Raja Natwarlal. "See my hero Emraan Hashmi is really huge in my country. He, of course, has a huge fan following in India and I think it is a huge stepping-stone for me to be in a film with him. And to be in all these beautiful songs with him."
"It is a good film. The director of our film, Mr. Kunal Deshmukh, has directed two huge hits before. So all that together made it a very good package for me," she added.
Talking about her character she revealed, "I'm playing a bar dancer. I will be doing great dancing numbers in the film. I'm playing Emraan Hashmi's love interest. She is a very intense girl. She is a very strong girl. She stands beside him through thick and then. She is as normal as any other girl and it is all about how and where the story takes her, which you are going to have to figure out when you see it!"
Humaima said working with Emraan Hashmi was a very good experience! "He is very, very supportive as a co-star. He is a great person. A really great guy. A very hard working person. He has taught me a lot about punctuality, about professionalism. He is just very good."
Adding, "I think people are going to love us together and love the film."
Working on her first Hindi film, she said was, "Really, really nice. It was very fruitful. It was hard for me, of course, working in a new nation. But how they have given me the love and support that they have, I will never be able to forget it. I will always remember this. They have given me a very, very, very, very memorable debut."
One of the most difficult things she said were the dance sequences in the film. "It was very hard. One song, 'Namak Paare', in which I am dancing, is picturised on me and it was totally full on. That was very hard. Yes, I have enjoyed that and the other numbers, but it is not as easy as it looks on screen."
"I have a lot of hope for this film. It has taken some 10 months of my life. I want it to really do well," she said.
"It really is a good film. It's a very entertaining film. I think it will be a treat for the audience to come and watch it in the cinema. I am so sure that it is going to do really well. I am having really good hopes. I request that you all come and see Raja Natwarlal."