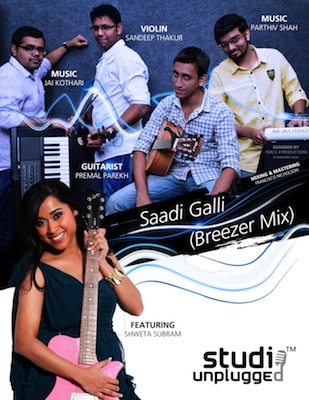 Canada's singing sensation, Shweta Subram, winner of Shankar Mahadevan's singing competition and Salim-Sulaiman's feature for IIFA 2011, has now lent her vocals to Jai-Parthiv of Studio Unplugged for their own version of 'Saadi Galli Aaja.' The original song is from the laughter riot Nautanki Saala starring Ayushmann Khurrana. Based out of Mumbai, Studio Unplugged also roped in Sandeep Thakur on violin and Premal Parikh on guitar. The team has titled this cover as 'Saadi Galli Aaja (Breezer Mix)' and is already being massively shared through social media sites.
'Saadi Galli Aaja' in Nautanki Saala is Ayushmann Khurana's successor to 'Paani Da Rang' from Vicky Donor. Ayushmann, the new poster boy of Bollywood, hits the right note again with 'Saadi Galli Aaja,' as the song is already a phenomenal success along with the movie (and has crossed 4 million views on YouTube).
Jai and Parthiv heard Shweta's single, 'Mere Saajan Sun Sun' with Shankar Tucker, and immediately contacted her expressing their interest to work with her. After the success of Shweta's online collaboration on 'Piya' with Pravin Mani and Karthik, they concluded that distance was not a factor. Shweta was on board with Studio Unplugged as she really enjoyed their past works.
'Saadi Galli Aaja (Breezer Mix)' is refreshing to hear, as it maintains the soul of the original and does not give into auto-tune effects that many singers around the world utilize. Shweta's vocals and Sandeep's violin will have you hooked.
Check it out!