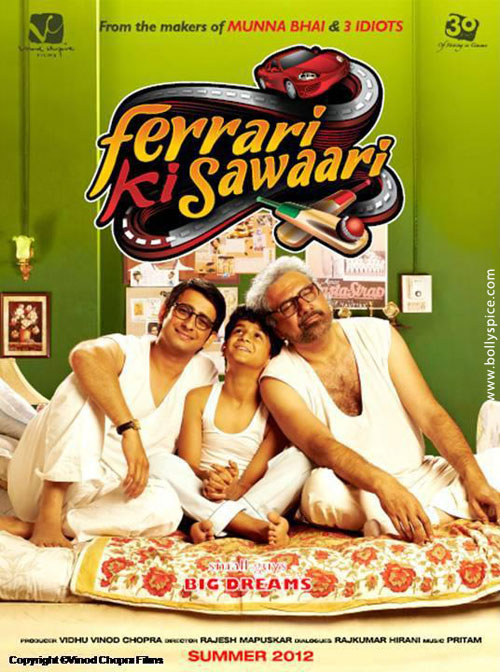 Comedy, the underdog, cricket and Raju Hirani – these are the things we absolutely love in Bollywood movies. And when we get them together in a single film, well it's definitely a treat for us. Ferrari ki Sawaari is Rajesh Mapuskar's  sweet take on the middle class and their dreams.
Kayo (Ritvik Sahore) is a talented kid who wants to be the next Sachin Tendulkar. His father Rustom (Sharmam Joshi), an RTO clerk, is a doting father who strongly believes that children learn what they see and hence always remain honest and follows the law. That's until a training camp at Lords for the top players is announced. Sure that Kayo will be selected on the basis of his merit, Rustom doesn't want his son to be deprived of this opportunity just because of his inability to pay the fees. A chance encounter with a wedding planner who must get a Ferrari for a corporator's son's wedding makes him choose between his principles and his child's dream.
Rajesh Mapuskar's Ferrari ki Sawaari has a very Hirani feel to it. Although Rajkumar Hirani has just written the dialogues – which are very simple and witty like they usually are – you feel a Munnabhai hangover to it. Even then, Mapuskar and Vidhu Vinod Chopra's screenplay is full of sweet heartwarming moments filled with clean humor. And yes, sentiments and emotions. The story does get a little manipulative with the audience's emotions, particularly in the second half which is why latter part of the movie gets a bit difficult to digest. It's the characters though that are the life of this movie. Ritvik Sahore as Kayo is a very promising lad who portrays a very believable character of a son idolizing his father. Very few Bollywood movies actually provide child characters which are not too sweet or over-smart or plain irritating. Sharman, who has his first solo in the movie, plays a very simple guy caught between his son's dreams and his father's frustrations. Sharman's character has a smile on his face throughout the movie, showcasing that no matter what, Rustom always believes that there's a solution to every problem. Although his character graph is very inconsistent, and a bit unbelievable, he still makes for a very sweet lead. But the best no doubt is Boman Irani as Deboo who absolutely shines in his performance. Many might argue that being a Parsi himself, the character came naturally to him but the way he portrays the nuances of his character you connect with him and feel his anger and frustration. The scene where he meets his friend after 35 years is just brilliant.
The side cast is impressive too. There are a host of Marathi actors who play quite a few characters in the movie like the corporator and his family or Sachin's help (Aakash Dabhade) and the watchman (Deepak Shirke) who provide the fun moments in the movie through their respective tracks. Satyadeep Mishra as Kayo's coach and Seema Bhargav as the loud Punjabi wedding planner are good too. Paresh Rawal is amazing his in cameo as Dilip Dharmadhikari, Deboo's old friend.
Ferrari ki Sawaari assures an entertaining ride throughout although it is more bumpy than it should have been. Nevertheless, such clean, heart tugging movies are fewer to come by which is why I would ask you to not miss it. I am sure the kids will love this Sawaari!