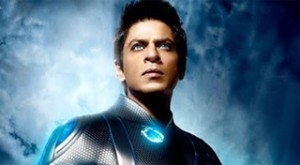 Red Chillies team along with director Anubhav Sinha, have been working day and night to complete their magnum opus Ra.One, starring Shah Rukh Khan, Kareena Kapoor and Arjun Rampal. With the final days of shooting commencing, there is tons of excitement on set.
Filmfare correspondent Ashwini Deshmukh was lucky enough to be on the sets during filming and in her excitement could not stop herself from tweeting the latest scoop. SRK being the showman that he is was swinging and twirling in mid-air for his various stunt performances, as the crowds of people watching held their breath. Risky business our superstars have to indulge in! Shah Rukh was also seen in a completely different costume from his regular G.One outfit seen on the promotional posters. Hmm, interesting. Wonder what the new look is all about?
Ashwini shared that SRK has an amazing amount of knowledge when brainstorming with director Anubhav Sinha and his team about each forthcoming shot they need to take. SRK advised the team in regards to high-end appliances, gadgets and software that are to be used for shots.
Not only does he have loads of knowledge, but he has some wonderful friends. He thanked Sanjay Dutt and Priyanka Chopra for doing cameos in Ra.One. "3 days of hectic shoot…last 4 days to go. My heartfelt thanks to Sanjay Dutt and Priyanka Chopra for being so wonderful on the sets. Bless you." And as if that wasn't thanks enough, he even gifted Sanjay a Ducati bike and Priyanka an acoustic guitar!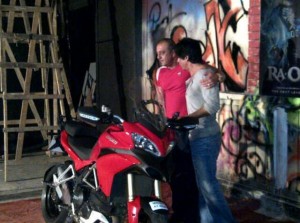 Tarun Mansukhani of Dostana directing fame assisted in directing Ra.One. Tarun wanted a break from scripted and was interested in gaining experience working on an action flick. Ra.One director Anubhav Sinha graciously accepted Tarun's offer to assist when he found out he was interested. Tarun was so excited he tweeted "This time I'm gonna get the stunt team to put me on a rig! I wanna know what its like to flyyyyy like a super hero!" Do we sense a passion for action and adventure?
And the talk of B-Town is the fabulous metallic grey bike G.One rides in certain scenes of the film. As SRK tweeted, it was a "cool futuristic bike" used for a thrilling action sequence. We look forward to seeing it on the big screen!
And of course, the notoriously late Shah Rukh Khan tweeted that he was late arriving to set and that the team of the film is "too patient" with him. He concluded with SRK brand humour, signing off with "have to work before they fire me from the job". As if there could be a Ra.One without its G.One!
But nothing melted our hearts like this tweet from SRK. "Surrounded by blue cloth. doing jumps not to prove I am a hero but cos I believe i can fly…I believe cos all of you make me believe that." Too sweet, na?
With Anubhav Sinha tweeting "Another set wrapped today. Moving on to the last set the day after. Been busy, will write in detail after final wrap." we are certain that fan excitement has shifted into high gear. We cannot wait to see what the Ra.One team has come up with!
We at Bollyspice eagerly await more updates on the film and cannot wait for Ra.One to release this year on October 26.