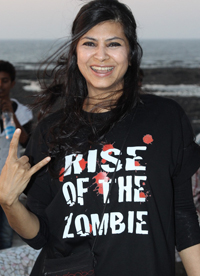 Luke Kenny might be the primary face behind India's first zombie origin film, Rise of the Zombie. But alongside Luke, there has been a creative force throughout the journey, in the form of Devaki Singh, the co-director of the film.
With Rise of the Zombie, Devaki Singh has become the world's and India's first woman director to have co-directed a Zombie film.
Devaki, a fashion school graduate, dabbled in creating collections for over 10 years before she left it to pursue canvas art and filmmaking. An ardent fan of the zombie genre, Devaki donned the hat of a director and co-directed the Rise of the Zombie. Her contribution to the film has been of immense value in terms of creativity and every other nitty-gritty aspect of filmmaking. The movie hits theaters on 22nd February, 2013
Rise of the Zombie is India's First Zombie Origin Film releasing on the 22nd of February. The story follows the transformation of Neil Parker, a wildlife photographer, as he is clenched into the darkness to only rise again as a monster.