Hum Dil De Chuke Sanam begins as a love story between Sameer (Salman Khan) and Nandini (Aishwariya Rai Bachan). Sameer is an Indo-Italian with a passion to learn Indian Classical Music. Nandini's father Pandit Darbar (Vikram Gokhale) is a renowned Indian Classical singer who agrees to teach Sameer. Sameer joins the family at their manor and lives alongside them. He wins the hearts of all through his charm and wit, but fails to initially impress Nandini, who finds him a nuisance. Nevertheless, it isn't long before the two fall in love. Their love story takes a tragic turn when Pandit Durbar catches the couple fantasizing about taking wedding vows. He is outraged and feels betrayed by Sameer. He orders Sameer to leave the house and to never contact Nandini again. A shattered Nandini is married off to Vanraj (Ajay Devgan). Sameer had sent Nandini a number of letters, but these were kept from her until it was too late.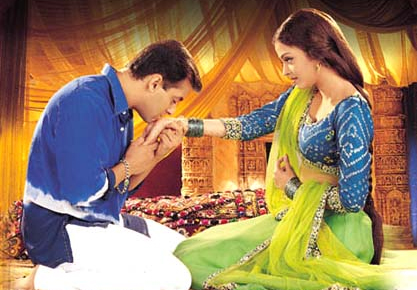 Vanraj can sense that his wife's heart is elsewhere and when he asks her for the truth on their wedding night, she gives him the bitter truth. Vanraj decides to reunite the lovers and heads off to Italy with Nandini on a search for Sameer. Once in Italy, the search is not so easy. Nandini and Vanraj hitchhike with a couple who rob them and shoot Nandini. This incident is a turning point in the film, as Nandini begins to realize Vanraj's love for her through his devoted care. At last, the searching pays off when Vanraj has a coincidental encounter with Sameer. Although he doesn't recognize Sameer, this brings him a step closer to his search. Eventually Sameer's whereabouts are traced and Vanraj arranges for Nandini and Sameer to meet. When Nandini meets Sameer, she realizes that Vanraj is the man she is truly in love with and wants to be with. Nandini lets Sameer go and embraces her life with Vanraj.
Hum Dil De Chuke Sanam was revered in particular for its cinematography and soundtrack. It became the 3rd highest grossing Bollywood film of 1999 in India, with a staggering Rs 35.5 crores. The film had won the 'Best Film' award at the Zee Cine Awards, 2000 IIFA Awards and 2000 Filmfare Awards. The soundtrack also won numerous awards. It won 'Best Playback Singer (Male)' Udit Narayan and 'Best Playback Singer (Female)' Kavita Krishnamurthy at the Zee Cine Awards. At the Zee Gold Awards it won 'Best Male Singer' Kumar Sanu. At the 2000 National Awards the 'Best Music Direction' went to Ismail Darbar. At the 2000 Filmfare Awards it acclaimed 'Best Male Playback' for "Chand Chupa Badal Mein" (Udit Narayan) as well as the 'Best Background Score' going to Anjan Biswas. The icing on the cake I feel, has to be the RD Burman Award that went to Ismail Darbar.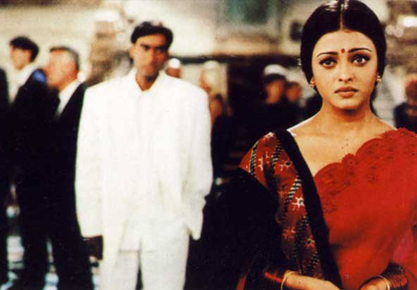 The soundtrack had taken two years to produce and consists of eleven songs: 'Aankhon Ki Gustakhiyan', 'Albela Sajan', 'Chand Chupa Badal Mein', 'Dholi Taaron Dhol Baaje', 'Hum Dil De Chuke Sanam', 'Jhonka Hawa Ka', 'Kaipoche', 'Love Theme', 'Man Mohini', 'Nimbooda', 'Tadap Tadap'. Planet Bollywood's music review had given the album 10 stars out of 10 as so it rightly deserves. Each individual song has a certain emotion and signifies a key moment in the film. Listening to the soundtrack alone has you mesmerised and tells the story of falling in love, being separated and celebrating love.' Aankhon Ki Gustakhiyan' symbolises Sameer and Nandini falling in love and becoming closer. 'Tadap Tadap' is an unforgettable song that haunts you and carries the pain of heart break. 'Kaipoche' is the kite flying song and 'Dholi Taaron Dhol Baaje' is based on the Gujurati garba style. As mentioned before, the soundtrack had taken the award ceremonies by storm. In the words of Planet Bollywood's Vikas Bhatnagar, the soundtrack of Hum Dil De Chuke Sanam 'has already cemented its place in the history books of greatest ever Hindi soundtracks…'
Interestingly, Italy had been replaced with Budapest for the shoot, as Sanjay Leela Bhansali felt that Italy would resonate more with the masses. All the scenes represented as Italy are actually Budapest, Hungary. According to IMDB, this was the film that had started the most publicized real life romance in the history of Indian cinema, between Salman Khan and Aishwariya Rai. Also, Sameer pointing to the sky and talking to his deceased father was influenced by Bhansali's childhood, where he used to do the same. Aishwariya's electrifying performance wouldn't have you believe this, but she had to dance to Nimbooda with swollen feet after she had an accident involving a chandelier on set.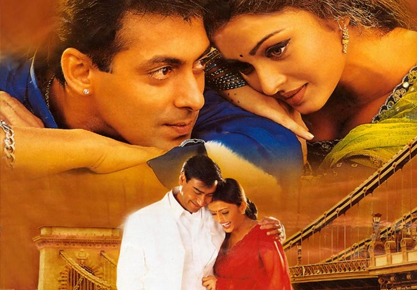 Hum Dil De Chuke Sanam is a film that can be deemed as a classic. The exhilarating performances of Salman Khan, Ajay Devgan and Aishwariya Rai bring out the emotion that envelopes the film. It is impossible for the audience no to feel a rapport with the characters. It is difficult to choose or side with a certain character in this film and that's what makes it special. The human experience Hum Dil De Chuke Sanam offers makes one connect with each character. There are no favourite characters in my opinion, but an overriding anticipation that drives the narrative forward with the speed of a heart beat. What is important about Hum Dil De Chuke Sanam is the different shades of love it represents and the option it gives for love to flourish and to change. Hum Dil De Chuke Sanam breaks the cliché of falling in love just once. Nandini's final decision to spend her life with Vanraj and not Sameer indicates that love is not simple nor is it predictable. The film represents following your heart and allowing yourself to make choices – even if they surprise you. Hum Dil De Chuke Sanam is iconic in the history of Indian cinema not only for its soundtrack, the story, cinematography, performances, but the reality of love it portrays.