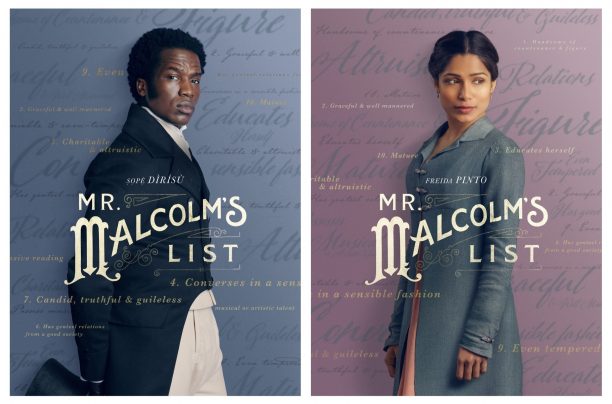 Mr. Malcolm's List is a newly released sparkling Regency romantic comedy directed by Emma Holly Jones and written by Suzanne Allain. It is the tale of a young British lady of good social standing (Julia Thistlewaite) who takes revenge on the man who jilted her (Mr. Jeremy Malcom) by convincing her best friend (Selina Dalton) to pose as his perfect match.
I recently had the amazing opportunity to speak with two of the film's stars, Freida Pinto (Selina) and Ṣọpẹ́ Dìrísù (Mr. Malcolm) about the film. They each shared their insights into what makes their characters tick. Ms. Pinto talks about how these two reserved people find one another in the midst of the high-energy antics around them. Mr. Dìrísù tells us about his favorite part of making the film. I want to thank Ms. Pinto and Mr. Dìrísù for their thoughtful answers and for taking the time to speak with me. You will love hearing from these two excellent actors whether you have already seen Mr. Malcolm's List, will be seeing it for the first time or heading to see it again! Enjoy!
Mr. Malcolm's List, which also stars by Zawe Ashton, Oliver Jackson-Cohen, Ashley Park, and Theo James, is in theatres now!
Be sure to check out the rave review and the fabulous interview with director Emma Holly Jones.