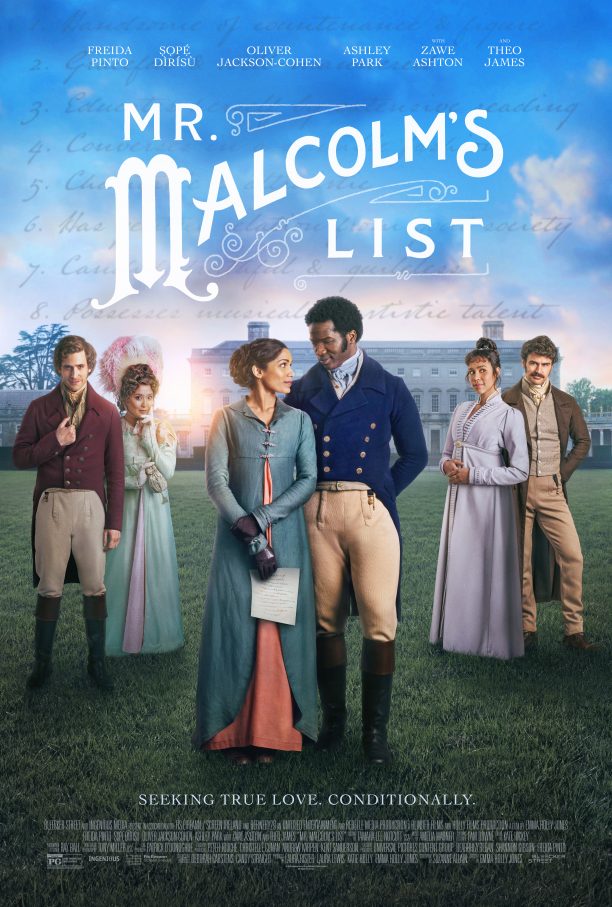 Mr. Malcolm's List, a brilliant Regency-era funny and romantic film, will open on July 1st in North America. When she fails to meet an item on his list of requirements for a bride, Julia Thistlewaite (Zawe Ashton) is jilted by London's most eligible bachelor, Mr. Malcolm (Ṣọpẹ́ Dìrísù). Feeling humiliated and determined to exact revenge, she convinces her friend Selina Dalton (Freida Pinto) to play the role of his ideal match. Soon, Mr. Malcolm wonders whether he's found the perfect woman…or the perfect hoax. A Bleecker Street production, directed by Emma Holly Jones, the film also stars Oliver Jackson-Cohen, Ashley Park, and a host of other fabulous actors.
On Wednesday, June 29, 2022, Bleecker Street hosted a special screening of Mr. Malcom's List, and seen at the spectacular red carpet event were, of course, Ṣọpẹ́ Dìrísù, Freida Pinto, Zawe Ashton, Theo James, plus director Emma Holly Jones, and writer Suzanne Allain in attendance.
Additional guests at the DGA New York Theater included Huma Abedin, Frederick Anderson, Yigal Azrouel, Kellie Brown, Sofia Bryant, Cara Buono, Juana Burga, Yin Chang, Sidney DuPont, Tony Goldwyn, Sabine Heller, Myha'la Herrold, Serge Ibaka, Pom Klementieff, Giza Lagarce, Padma Lakshmi, Jerome Lamaar, Sunita Mani, Isabella McCalla, Britne Oldford, Aqua Parios, Thania Peck, Titina Penzini, Tanner Reese, Alysia Reiner, Conrad Ricamore, Vlada Roslyakova, Valentina Sampio, Gay & Nan Talese, Moonlynn Tsai, Alicja Tubilewicz, and Jeffrey C. Williams.
Following the screening, Saks hosted a dazzling soiree with cast members and special guests at Le Chalet at L'Avenue at Saks. What had everyone talking was that the space was decadently themed to the year 1818, including an outdoor terrace where guests could play a game of croquet and have their watercolor portrait done by a live illustrator. The event was part of Saks' larger partnership with Bleecker Street to celebrate the premiere of Mr. Malcolm's List, including digital marketing, a product array inspired by the film on saks.com, and a window installation at Saks' iconic New York flagship on display now through Wednesday, July 6.
See the incredible night through the photographic lens in these pictures.
All photos courtesy of Dave Allocca, Starpix
Also, check out our review of this wonderful film. Stay tuned because we also have video interviews with Ṣọpẹ́ Dìrísù, Freida Pinto, and director Emma Holly Jones.
Make sure to put the film on your social calendar! It is not to be missed!