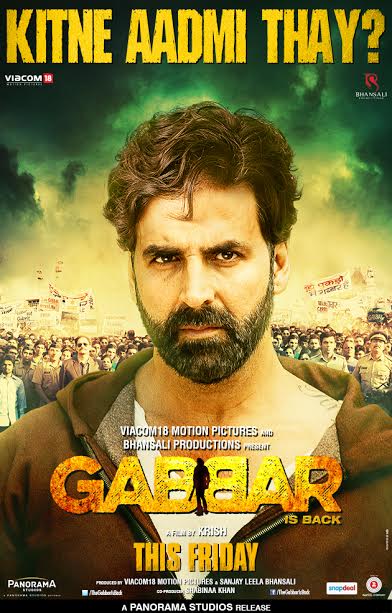 Gabbar is Back is an upcoming action/drama starring Akshay Kumar in the leading role. Scheduled for release this Friday, the film has been directed by Krish and also stars Shruti Haasan and Kareena Kapoor Khan in a cameo role. The music has been composed by Chirantan Bhatt, Yo Yo Honey Singh and Manj Music. So what did we think of the music to Gabbar is Back? Keep reading to see what we thought of it.
First up we have 'Teri Meri Kahaani,' by Arijit Singh and Palak Mucchal. I would say this is a very groovy up-tempo, yet romantic number which works in many places. It's very commercial in sound, yet has a nice catch which will crawl up to you eventually. There are nice executions of instruments such as the drums, electric guitar and bass, which mix together nicely. Overall, it's a good attempt which deserves a listen.
Next we have 'Coffee Peetey Peetey,' which has been sung by Dev Negi and Paroma Das Gupta. This is one of those songs which you're expected to like, given the strong commercial feel to it. Yet I did not find this one at all interesting to listen to and it felt like something dry which needs more texture to it. Sorry to say but despite respectable vocals from the lead singers, this one disappoints.
Following this we have 'Aao Raja' by Neha Kakkar and Yo Yo Honey Singh. The song has strong techno elements to it which are very typical in a Yo Yo Honey Singh song. This is one of those 'been there, heard that' songs and it just feels like a song which is not fresh and could have benefited from a lot of honing to its composition.
Finally we have 'Warna Gabbar Aa Jayega,' which has been sung by Manj Musik and Raftaar. This song was just nothing but noise and even the vocals were just terrible. I found myself drifting away from it completely and therefore does not have that 'wow' factor which one would expect from a typical Bollywood number. Therefore, give it a miss!
To sum up, I was incredibly disappointed with the music to Gabbar is Back. With the exception of 'Teri Meri Kahaani,' the rest of the songs were boring and lacking in the flavours and themes which one desires. Sorry to say but this one is just plain tedious and unfulfilling.