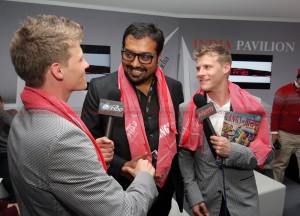 The French Riveira was transformed into rural India on the 21st of May 2012, as Gangs Of Wasseypur, the much-anticipated film by acclaimed director Anurag Kashyap, was celebrated at a special star-studded cocktail party, hosted by Viacom18 Motion Pictures, to honour its inclusion in the prestigious 65th Cannes Film Festival's Director's Fortnight – the first time that a mainstream Bollywood film has had this honour.
Hailed as one of the most happening Bollywood parties of Cannes this year, gangs of curious guests at the cocktail party, which was held at the stunning NFDC Indian Pavilion, were given red branded gamchchas (bandanas) which are symbolic to the film. The international media, film executives, and VIPs took to wearing the gamchchas with pride to demonstrate their appreciation for the film. The gamchchas projected an earthy vibe of the film, which deals with 60 years of a feuding family's life in the coal mining town of Dhanabad in Jarkhand, India.
Attendees were also welcomed by a champagne cocktail reception and treated to mouth-watering Indian delicacies, which brought a taste of India to Cannes.
Anurag Kashyap and the film's actress Huma Qureshi who is a rising Bollywood beauty, experienced Cannes' very own monsoon, greeted the flurry of media who interviewed them about their upcoming Indian blockbuster.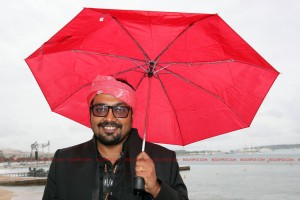 Gangs Of Wasseypur, a mainstream Indian film, combines clever filmmaking with a powerful, high-concept and entertaining plot, with revenge at its core. Accentuated by strong performances by a talented and eclectic cast comprising of Hindi cinemas finest, Manoj Bajpayee, Nawazuddin Siddiqui and Richa Chadda, the film is cleverly told in two parts. Gangs Of Wasseypur represents the brave new Indian cinema breaking the cliches and conventions, something which Anurag Kashyap has come to be known for. The film is presented by one of India's leading integrated film companies, Viacom18 Motion Pictures and produced by AKFPL.
Manoj Bajpayee has been shooting for Prakash Jha's next in the jungles of India but he is actually going to make the trip to Cannes to support the film. It is in fact a very quick trip since he will only be in Cannes about 5 hours and then back to the location but he wanted to be there to support the film. He told us exclusively, "It is an honor. All of us are excited! We are all going to support the film. It is quite a happy time for all of us. The sheer excitement of being there and to see Anurag's happiness I am making the extra effort. Anurag's happiness gives me quite a kick. We have all worked hard to make this film come true and now it is a time to celebrate and be a part of this prestigious occasion."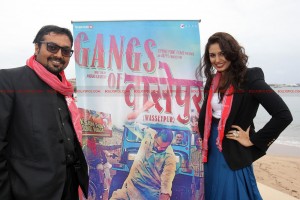 The world premiere of Gangs Of Wasseypur was held on 22nd May 2012 at the 'Directors Fortnight' at the Marriott, Cannes and Manoj did make it. The leading cast and crew were there to celebrate the film including Anurag Kashyap, Manoj Bajpayee, Nawazuddin Siddiqui, Huma Quereshi, Richa Chadda, Reema Sen, and the 28 year old music director Sneha Khanwalkar.
The premiere for the film opened to a packed house and saw eager crowds line the streets outside the world renowned JW Marriot for the exclusive world premiere of Gangs Of Wasseypur, the first mainstream Bollywood film to be selected for the Director's Fortnight. Onlookers screamed as the Belles of Bollywood sashayed down the red carpet and dazzled the fans with their jaw-dropping floor length gowns. Once again the supporters of the most highly anticipated Indian film of the 65th Cannes Film Festival proudly donned their statement red gamchchas as they took their seats in a fully packed 800 strong capacity screening.
Other highlights for the film during the festival week will include a debate forum on Bollywood's changing place within Indian cinema on 23rd May.
Gangs Of Wasseypur releases on 22nd June. Stay tuned we have much more from Manoj in our exclusive interview coming up soon!
For now check out some shots from the party and premiere!