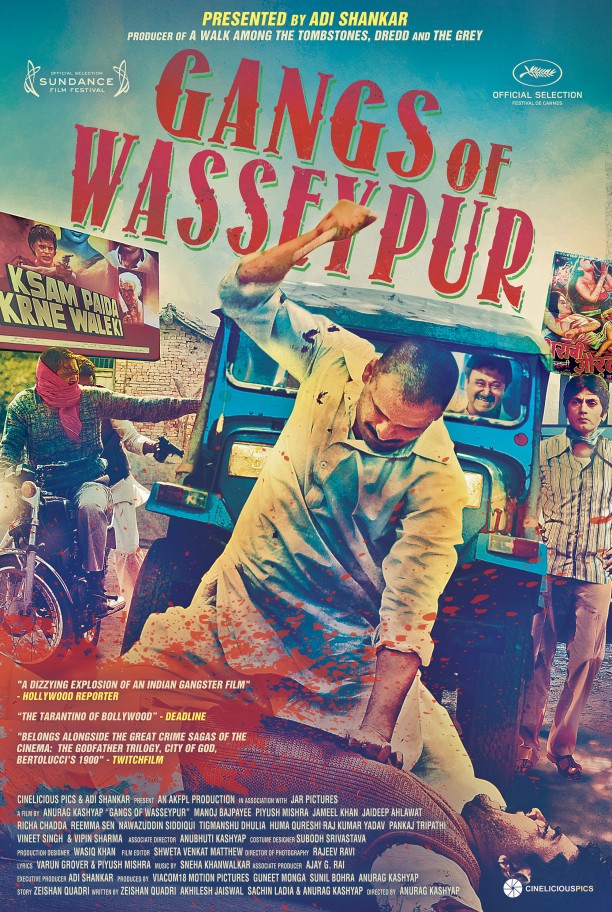 Cinelicious Pics brings to you the critically acclaimed epic crime drama GANGS OF WASSEYPUR on demand via iTunes and GooglePlay. The film is coming soon to Amazon, Netflix, Dish, M-GO, Ultraflix, Facebook and Vimeo, in collaboration with Cinelicious' VOD partner on the movie, FilmKaravan.
The intense and dazzling GANGS OF WASSEYPUR, often called India's answer to THE GODFATHER Saga, is director/writer/producer Anurag Kashyap's ambitious and extraordinary blood-and-bullets fueled crime saga that charts seventy years in the lives – and spectacular deaths – of two mafia-like families fighting for control of the coal-mining town of Wasseypur, India.  Legendary filmmaker Martin Scorsese (GOODFELLAS, GANGS OF NEW YORK) recently praised the movie as "a bold, original, fascinating crime saga" and "A wild, dangerous epic."
Inspired by the real-life exploits of local gangs and beginning with the bandit-like career of Shahid Khan (Jaideep Ahlawat) in the 1940s, the film follows the ruthless rise of his son Sardar (a brilliant Manoj Bajpayee) and his offspring, the surreally-named Danish, Perpendicular and Definitive Khans and their numerous wives and girlfriends. GANGS OF WASSEYPUR mirrors the tumultuous and explosive growth of modern India with ferocious cinematic intensity. As with Al Pacino's Michael Corleone in THE GODFATHER, it's the least likely of Sardar's children – the perpetually stoned Faizal (Nawazuddin Siddiqui) – who rises to the top ranks of the Khan crime family, vowing brutal revenge on their longtime nemesis, the wily and seemingly unstoppable Ramadhir Singh (Tigmanshu Dhulia).
Composer Sneha Khanwalkar's stunning soundtrack ranks with legends like R.D. Burman, but don't expect Bollywood-style dance numbers:  this is a movie that up-ends every expectation of what great Indian cinema should look (and sound) like.
Paul Korver, Founder & President of Cinelicious Pics comments, "Making GANGS OF WASSEYPUR available on VOD has always been a key element of our distribution efforts in North America. We've found a great partner in FilmKaravan who will enable this landmark Indian crime film to go live on nine VOD platforms over the next few months. "
Speaking on enabling the film's distribution, Apoorva Bakshi, Director, Production & Partnerships, FilmKaravan, says, "GANGS OF WASSEYPUR is a modern masterpiece and we're glad that Cinelicious Pics is engaging viewers via the digital eco-system. We're thrilled to facilitate bridging the gap between fans and their favorite film."
To find out more about GANGS OF WASSEYPUR and other Cinelicious Pics titles, visit: www.cineliciouspics.com