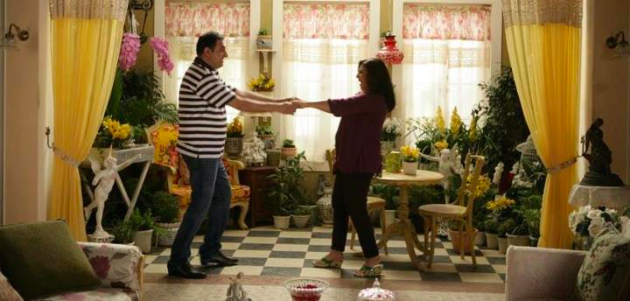 Coming up on Friday August 24th is the new romance from Sanjay Leela Bhansali. However, this time he is not the director he is the producer for the rom-com directed by Bela Segal. This is not your regular filmi romance, this is about finding your soul mate when you thought it might be to late. The story is about Farhad Pastakiya, 45-year-old golden hearted Parsi bachelor working as a bra and panty salesman, who has never found love. The only women in his life are his dominating mother, Nargis and doting grandmother, Siloo. The world has given up on him but Farhad has never given up hope. Until one day a 34 B walks into his shop and its love at first sight. Shirin Fugawala 40-year-old, bubbly, straightforward, Parsi trust secretary is Farhad's soul mate but destiny intervenes in the form of a demolished water-tank. All hell breaks loose as Frahad's mother Nargis realizes that her son's dream girl is her sworn enemy.
Starring the amazing jodi of the great Boman Irani and Farah Khan, who is making her acting debut in the film, from what we have seen so far this film is all heart! In fact, Boman Irani told us he decided to do the film because not only would he have Farah Khan as a co-star but also that when he heard the script he thought, "It was very very sweet and there was something to be said." But more on that later!
For now check out these cute looks into the film. We have showed you some of the great chemistry the two have in the song promos, now take a look at three dialog promos that we are sure you will enjoy!
httpvh://youtu.be/wfnyP-rR7Hs
httpvh://youtu.be/0_RWUID3yzE
httpvh://youtu.be/m7cxEijMxEs
Watch this space because we have a fabulous interview with Mr. Irani coming up soon!