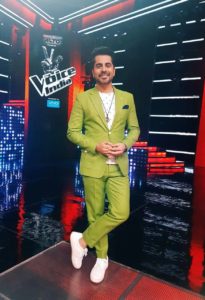 The Voice India season 2, recently came to a close. The season was hosted by popular television actor Gunjan Utreja. Gunjan has also previously acted in the popular Colors TV serial Madhubala. I was fortunate to have a catch up with Gunjan, who is currently very excited about his next project which will see him feature in the third music video from Arya Entertainment for a song called Piya. Read on to find out Gunjan's exprience on the music video and more.
Hi Gunjan, please share with us your career highlights so far.
I have been fortunate to work with some of the best people, on some of the best projects in the industry. From hosting the Indian edition of worlds biggest singing reality show The Voice India Season 2, then to play the main lead in Madhubala on Colors, and later to act in a Web-series Mickey Vickey ka Program, life has been one learning experience.
Please tell us about your collaboration with Arya Entertainment.
I have known Arya since 4 years and we surely have a lot of respect for each others talent and work ethics. We happened to meet each other on a talk show, and since then, it felt as if we had some kind of karmic connection with each other. He has been very supportive of my work as an elder brother. So when he called me to feature in this music video, it was a direct approval from me and I was on board in practically 5 minutes.
Share with us your thoughts about the Music of the song Piya composed by Viraal and sung by Jubin Nautiyal.
There are songs which grow on you, and then there are a few songs with which you fall in love with instantly. Piya falls in the latter. It is genuinely a unique composition, other than the regular love songs I have heard. Composer and Lyricist Viraal has done a commendable job. His previous song "Pehlo Prem" also created many new records. Jubin Nautiyal's voice has taken the song to a whole new level. I feel absolutely blessed to be a part of this song.
How was the experience of shooting the video for the heart breaker song Piya?
It's always a great experience to be surrounded by a team of dedicated professionals who are talented and passionate about their craft.
What are your thoughts about the current Music trends in Bollywood?
It's a great time to be in the music scene today. The audience is appreciative of all kinds of good music and unique sounds. New composers and singers are getting more opportunities and its a treat for music lovers.
Do you think the Hindi Independent Music scene, can it become strong again like it used to be?
For sure. In the past few years, it has grown many folds to an extent that Bollywood was forced to feature so many of such songs in the films. Thanks to the Internet, the Hindi Independent music scene is growing at a rapid pace.
How does it feel to be hosting the second season of The Voice India?
It's an absolute honour to be a part of a successful franchise which is worlds biggest singing reality show. I always dreamt of hosting a talent based reality show. I am glad my style of humour was appreciated. There was so much positivity on the set, thanks to our coaches, singers and hardworking creative team. I am glad the show is loved by all.
Please tell us about your future projects.
I will start shooting for the second season of my Web-series. It will be called Return of Mickey Vickey. It will be wackier and funnier than season 1 for sure.