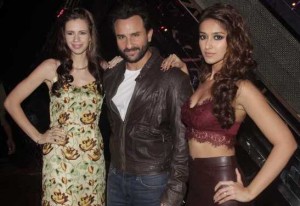 Last weeks India's RAWStar opened with a medley of popular songs from the Top 5 contestants. Darshan sang 'Kabhi Jo Badal Barse', Rituraaj sang 'Teri Galliyan', Jeffrey sang 'Tere Mast Mast Do Nain', Mohit sang 'Ye Chand Sa Roshan Chehra' and Akasa sang 'Lat Lag Gayi'.
Host Gauahar Khan then announced that Darshan Raval is the first semi-finalist on the first series of India's RAWstar. Mentor Himesh (HR) asked Darshan who does he sing for: the critics or the audience? Darshan very confidently replied that he sings for the audience and mentor HR was very happy with his answer. Mentor HR then said to Darshan that after he performs his first original sound track, he will personally take Darshan's autograph on the CD!
Darshan performed his own composition 'Pehli Mohabbat'. After he sang the song, mentor HR jokingly asked Darshan 'Tum Ne Kabhi Ishq Kiya Hain?' (meaning have you ever been in love?) It was too funny seeing Darshan hesitate to reply with his answer as mentor HR felt that only a person who had been in love could write a song like 'Pehli Mohabbat'.
The audience were then shown footage of all the contestants challenging Mohit as they felt he was the weakest. Host Gauahar then announced the rest of the finalists and their positions: Jeffrey was fourth, Mohit was third and Rituraaj was second.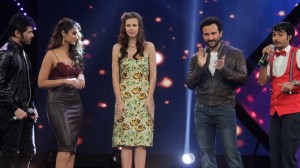 Mentor HR could sense that Mohit had his confidence shaken a bit after hearing the other contestants wanted to challenge him. HR encouraged Mohit to be strong and face the challenge. He recited a few lines that would give Mohit his confidence back (Na Dukh Na Taqleef, Toh Zindagi Jeene Ka Kya Mazaa Hain?) This was a really sweet moment.
Before the face-off between Mohit and Jeffrey, the cast of the forthcoming film Happy Ending were welcomed on the show. Saif Ali Khan, Ileana d'Cruz and Kalki were warmly welcomed on the show. The face-off between Mohit and Jeffrey had Jeffrey singing 'Tu Hi Re' from Bombay. This was an extremely soulful performance. Mohit sang the classic 'Tum Jo Mil Gaye Ho'. Before the results were announced, mentor Himesh went on stage and requested both Mohit and Jeffrey to sing a few lines of his song 'Tu Hi Tu' from the film Kick. Both of the contestants enjoyed singing with their mentor HR! The cast of Happy Ending said they enjoyed Mohit's performance the most and Mohit won this face-off.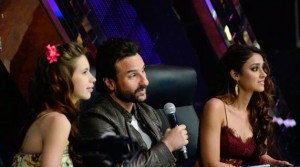 The next face-off was between Akasa and Rituraaj. Rituraaj won. He sang 'Qurbaan Hua' from Qurbaan while Akasa sang a rock version of 'Ram Chahe Leela' from Ram Leela. It was then time for a face-off between Jeffrey and Akasa. Before this face-off, special guest Saif Ali Khan requested Darshan and Akasa to sing 'Jaisa Mera Tu' a song from Happy Ending. The guests then took their leave and wished the contestants all the very best.
It was then time for the last face-off between Jeffrey and Akasa. Akasa sang 'Hungama Ho Gaya' and 'Ye Mera Dil'. Jeffrey played the harmonium and gave a mesmerizing performance of 'Ishq Sufiana'. After the face-off, mentor HR told the audience that Jeffrey is suffering from malaria and it is commendable that he has continued to perform despite being in such a terrible condition. Mentor HR then made Akasa and Jeffrey sing a few lines of their favourite song, just to confirm the audience of his decision. Akasa sang 'Teri Deewani' and Jeffrey sang 'Sajda' from My Name Is Khan. Mentor HR declared Jeffrey as the winner!
In association with www.himesh-reshammiya.com
Stay tuned with BollySpice for updates on your favourite show, India's RAWStar!