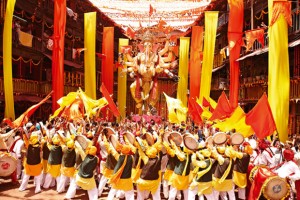 Ganesh Chaturthi is the day lord Shiva declared his son Ganesha as superior to all the gods. Ganesha is widely worshipped as the god of wisdom, prosperity and good fortune and traditionally invoked at the beginning of any new venture or at the start of travel in Hindu Religion.
The festival, which starts today and lasts ten days, is one of the most prominent festivals of Maharashtra. And while Bollywood stars celebrate the festival in a big way off-screen, they have more than often been seen singing and dancing on screen expressing their devotion.
Here are some of our most favorite Bollywood songs which are dedicated to the Elephant God.
Deva Ho Deva – Hum Se Badhkar Kaun (1981)

Ganpati Bappa Morya – Dard Ka Rishta (1982)

Ganpati Apne Gaon Chale – Agneepath (1990)

Jai Dev Jai Dev – Vaastav (1999)

Deva Ho Deva – Parwana (2003)

Shree Ganeshay Dheemahi – Virrudh (2005)

Tera Hi Jalwa – Wanted (2009)

Mourya Re – Don (2006)

Deva Shree Ganesha – Agneepath (2012)

Did we miss your favorite? Comment and let us know!
Bollyspice wishes all our readers a blessed Ganesh Chaturthi!