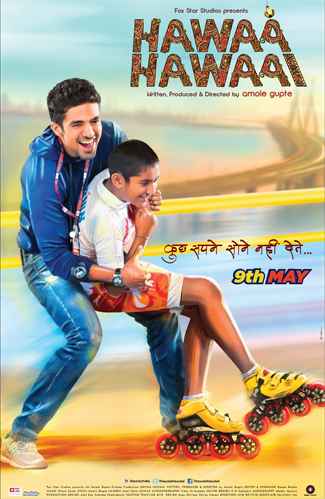 At first glance, this movie seems like a typical underdog-success story we have all seen on the screen so many times. But the fact that Amole Gupte has lent his magic to this venture is enough reason in itself to check out what Hawaa Hawaai is all about.
Continuing with his field of expertise, Amole brings to us yet another endearing story about children. Arjun Waghmare (Partho Gupte) at first glance is yet another chai-wala kid in Mumbai – the many Chotus and Rajus that you see daily. And like every other kid, he has dreams – dreams that no amount of hardship can break. When Arjun sets his eyes on the skates for the first time, he feels a happiness he hasn't in a long time. But for a kid who can barely afford a meal two times a day, skating seems like a pretty expensive dream.
Undeterred, he and his gang of friends – Gochi, Bhura, Murugan and Abdul – set out to make their own skates, giving wings to their dream of making Arjun a skating champ and hence aptly naming their innovation Hawaa Hawaai. Assisted by a skating couch Aniket Bhargave (Saqib Saleem), Arjun sets out to do what his heart wants, touching the chords of all around him on the way.
Amole's style of handling kids and presenting them on screen is pretty evident from Taare Zameen Par and Stanley Ka Dabba, and he continues the same in this movie. Giving the child artists a free hand and letting them express themselves, Amole brings out the best in the kids as always. One of the best things about the movie is that it is never preachy or in your face. There are a lot of issues which the movie covers – child labor, poverty, the farmer suicides – but none are exploited just for the heck of emotionally blackmailing the audience.
As far as the performances are concerned, the junior lot has been casted perfectly and they bring both smiles on your face and tears in your eyes. Partho, who was pretty good in Stanley Ka Dabba, continues his performance as an underprivileged working kid with a dream with the same innocence and endearment we have now come to associate him with. His gang of friends played by Ashfaque Bismillah Khan (Gochi), Salman Khan (Bhura), Thirupathi Kushnapelli (Murugan) and Maaman Menon (Abdul) provide most of the gems in this movie. Saqib is pretty decent as the coach who starts out teaching the kids but ends up learning a lot from them. Neha Joshi as Arjun's mother does justice to her role.
That's not to say that the movie is without flaws. The movie, though with excellent editing by Deepa Bhatia, tends to meander in between. The basic premise in itself is not something we haven't seen before and it does seem like the movie may have been better on paper than it ended up being. Amole just misses from making this one of the most amazing movies to come out in recent times.
Nevertheless, the adorable performances are enough to warranty this clean and from-the-heart movie a dekho.