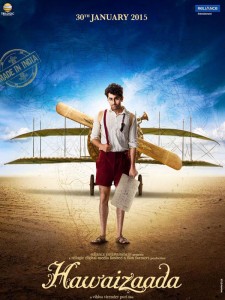 As Indians we have always been proud of how our ancestors were way ahead of their times, giving the world some revolutionary concepts and inventions. So 'Aryabhatta gave the world the number 0' is often our trademark reply to India being called a backward and third world country in almost any movie. Taking this a bit further is Vibhu Puri's Hawaizaada based on a theory that an Indian was the first to build an airplane before the Wright brothers did.
Marathi manoos Shivkar Talpade (Ayushman Khurana) is a disappointment to his father who has repeatedly failed fourth grade. His father finally has enough and throws him out when he is taken in by Shastri. Shastri (Mithun Chakraborty) is a scientist who is trying to decode the Vedas to find the answers to the making of numerous inventions which apparently our ancestors have hidden and makes Talpade his assistant. In between working with Shastri and inventing the steam engine, Shivi falls for a tamasha (dancer) girl Sitara Devi (Pallavi Sharda) who is his pillar of support when he tries to make his biggest invention – the airplane or the 'Hawaijahaj'. This invention however has to be kept a secret from the British as they are hell bent on destroying anything made by the locals – to keep the illusion of Indians being 'dumb and illiterate' alive!
The concept is interesting and different however, the director's treatment fails miserably. Looking like a cross between Hugo and Sanjay Leela Bhansali's movies, the set looks so unrealistic – beautiful yes, but unrealistic – that the outline of the movie becomes difficult to digest. The dialogues in Marathi seem staged to bring a local feel and the love story keeps taking the focus away from the main storyline dragging the movie.
With respect to performances, each of the actors give their most to their flimsy characters be it Ayushmann, Pallavi (who is better here than she was in Besharam) or Mithun but the person who steals the show in his limited screen time is Naman Jain who plays the role of Shivi's nephew Narayan. We hope to see more of him in the future.
Overall, the movie looks more like a fantasy come love story which is neither here nor there fully failing to bring out the essence of the main storyline. It's sad that what could have been a 'hatke' and lovely movie turns out to be only a bore.