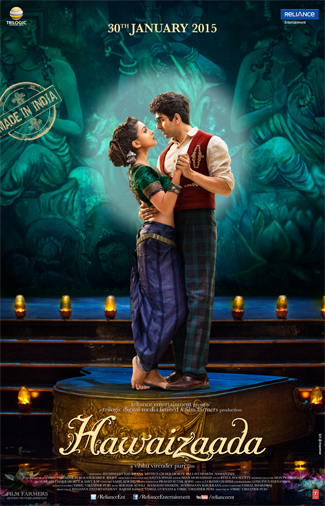 Starring Ayushmann Khurrana, Pallavi Sharda and Mithun Chakraborthy, Hawaizaada, which hits theaters on January 30th, tells the story of the life, love and struggles of Shivkar Bapuji Talpade, who built the first airplane in 1895, eight years before the Wright Brothers.
To bring the musical world of Hawaizaada to life, director Vibhu Puri brought together an eclectic mix of musical directors that include Rochak Kohli, Mangesh Dhakde, and Vishal Bhardwaj. Also contributing to the OST is Ayushmann Khurrana in his first outing as a composer.
The albums boasts the vocals talents of some of the best of the best including Javed Bashir, Mohit Chauhan, Neeti Mohan, Rekha Bhardwaj, Sukhwinder Singh, Shweta Subram, Ayushmann Khurrana, the Wadali Brothers and Harshdeep Kaur.
So does the music soar or not get off the ground? (Sorry, I had to!) Read on to see what we thought!
Composed and sung by Rochak Kohli, Hawaizaada Dil starts off a bit quirky, and that quirkiness weaves in and out through the music. It is certainly not something we have heard before, and it has a great energy. The song builds on from there and has many different energetic sections that fit, but at the same time don't. This one takes a listen or two, but in the end it is a nice ditty in the best way. There is a very odd, almost opera section in the middle that makes you say 'huh? where did that come from?', but maybe it comes from the movie. I love Rochak Kohli's voice and the inflection and feeling he puts into his performance. I think this one has to be situational and will make you say 'oh I like it even better now' once you see it in the film.
Daak Ticket with music by Rochak Kohli features Javed Bashir and Mohit Chauhan. It begins with Javed Bashir doing what he does best, belting the lyrics out with such feeling and giving you the music happys (you have those right?). The song transposes to something a little softer with the introduction of Mohit Chauhan and again you are smiling. He is wonderful. The music in the refrain is lovely but the music in other parts has some very odd sounds that almost overwhelm him, which really is very hard. The middle section seems to fit into another song and the music is quite distracting. I loved the delivery of the singers and the music in parts, but there was just so much – almost too many notes, which feels just wrong to say but true. I felt like I listened to at least 4 different songs in one. Overall, it is the singers that are the highlight. Perhaps in the film, backing up a scene, it will play better.
Mohit Chauhan and Neeti Mohan feature on Maazaa My Lord with music by Mangesh Dhakde. With music that fits the era of the film, it starts off with a peppy pace that is fun to listen to. But then the music changes to something that does not seem to fit the first part and then it changes again and again. Always with the same essence, sort of, but very confusing to listen to. However, from the song video we have seen the many changes that seemed to not fit together when we listened to it and made it less instead of more actually make sense. Mohit Chauhan is of course great. Neeti Mohan adds a great sprightly and spicy layer to her sections. It slows down in the end and that really shows off Neeti Mohan's gorgeous voice. So good! Wait and see this one in the world of the story.
Ayushmann Khurrana turned music director for Dil-E-Nadaan. Based on a poem by Ghalib, lovely music starts 'Dil-E-Nadaan' off. Then Ayushmann Khurrana's vocals join in and you think you are in for a real treat. I love the beginning of this song! But then as the song went on and more and more musical layers were added it was less of a treat. I did like it but it had so many layers and styles and instruments that it took away from his vocals and the lyrics. The music had way too many ideas in one song. The orchestration was not needed and some of the other additions were just extraneous. It was too much musically and that is not a good thing. If it had been pared down and continued as it started, then I think it would have been much better.
There is also the Dil-E-Nadaan (Reprise), which adds in the fabulous vocals of Shweta Subram. This is definitely the better one. This version has more of a rock vibe to the music, which is fab. Ayushmann sings with much more feeling. You really feel he feels the lyrics in this version. Though only heard in small sections, Shweta gives the song depth and the makes the song even better. It does suffer a bit from the too many musical ideas that the original did, but not nearly as much. Definitely give this one a play!
With very traditional flavored notes Udd Jayega by Mangesh Dhakde features the iconic vocals of Sukhwinder Singh, and he is of course perfect. However, except for the very first section, I am just not sure the music matched his vocals. Again, this one suffered in that the music took away from the vocal instead of supporting and lifting it up even higher. If the song had continued with the lovely pared-down beginning that features the brilliance of Sukhwinder Singh, it would have been so much better. Taken separately they are both wonderful, but the mix of the syncopation of the vocal and the music was just off. It felt disconnected and again there were too many musical ideas. I think the music would work just as an instrumental but still a bit too much in sections. There were some good sections but overall this one sadly is a skip until you see it in the movie.
Starting with a very modern synth beat, the ever-brilliant Rekha Bhardwaj is the voice of Dil Todne Ki Masheen, which was composed by Vishal Bhardwaj. She has such a classic tone and flavor to her vocals, which I always love and they were a surprise choice based on the music; she worked but the music did not. Though a bit less than the other songs we have heard so far, the music again was a mash-up of sounds that seem to almost fight with the singer (no matter what singer) instead of giving the vocals the base and tone so that they both shine. She is fabulous, singing with a great spark and you should listen to it once just to hear her. The Spanish influences in the music, though great, really were out of place. It missed the mark musically and so sadly this is a song I would only want to hear once.
Yaadien Gatthri Mein with music by Mangesh Dhakde is simply beautiful. My favorite track on the OST! Harshdeep Kaur's gorgeous vocals soar. She is absolutely brilliant. A perfect mix of vocals and music. Sadly we only got a minute and half. I wanted to hear so much more!
Turram Khan, composed by Rochak Kohli, starts off with a lovely slow melody that transposes to a faster chippy, zippy, chirpy song. The quirky track features Papon, who is great, singing with a fun spicy inflection. The song then unexpectedly and jarringly changes to a completely different song in the middle, with Ayushmann in a full-on orchestration ballad, then a mini section with Monali Thakur. Both were great but I had to look to see if I had gone on to another song. I think you have to see this song playing in the film to get it. I just wish, again, that there were not so many sounds and ideas pushed into one track, because I really liked parts, but overall not so much.
I loved the beginning of Teri Dua and the musical goodness continued to the very last note. Very classic in beats, the singers that include the Wadali Brothers, who are fabulous, as well as Lakhwinder Wadali, Harshdeep Kaur, Ravindra Sathe, Ranadeep Bhasker, Sukhwinder Singh are the highlight of this track. This is a must listen and a highlight of the OST.
Though none of the songs of Hawaizaada are bad songs, they almost all suffer from the same problem, too many different ideas or too many sounds. There were great sections, great vocals but in many of the songs the cohesion was not there or the vocals did not mesh. I was confused by many of the songs and that does not make a good album to listen to. Most songs I would not want to add to my playlists. Many will probably play better within the context of the film…at least I think so. There were some highlights, however, so make sure to listen 'Teri Dua', the 'Dil-E-Nadaan' (Reprise) and the outstanding but WAY too short 'Yaadien Gatthri Mein'.