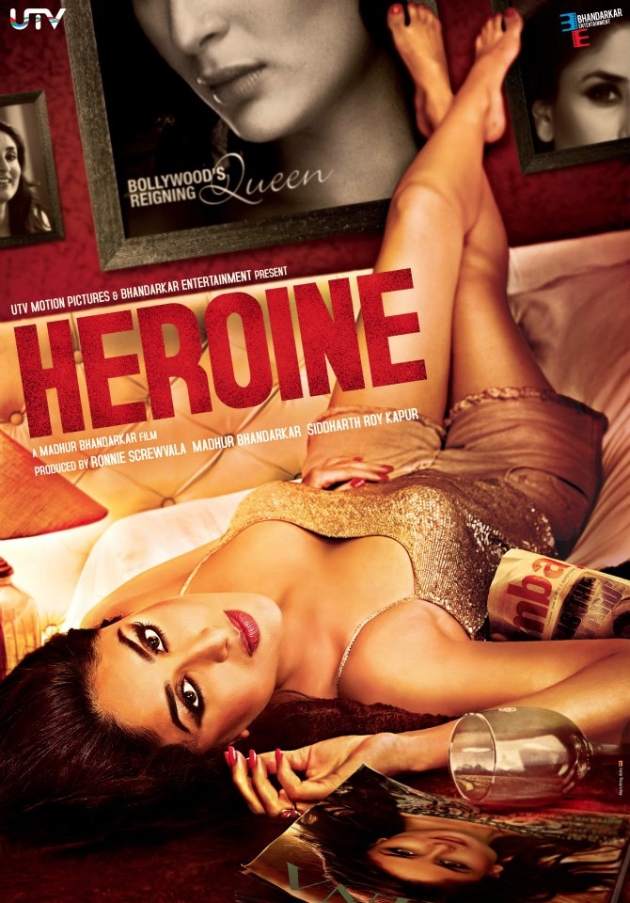 In news for more controversial reasons than one, Heroine like all Madhur Bhandarkar movies was on the must-watch films list of many. For a country constantly fascinated with the inside tittle-tattle of the glamour world, salacious gossips has many takers. When a filmmaker intents to throw mirror on the colorful life of mainstream actress in his bare-all voyeuristic way, there can't be a better subject for the commercial masala-loving Indian cinema audiences. But such narratives have a shelf-life. Having indulged in realistic portrayal of the showbiz in his previous films, there is just about that much surface that can be scratched whilst having to maintain a conservative approach at the risk of offending anyone. How then does Madhur make Heroine any different from his earlier flicks? Read on.
Heroine is the flashback tell-tale of actress Mahi Arora (Kareena Kapoor), her journey from lows to lows as narrated by TV presenter. Good karma playing truant, there doesn't seem to be anything going well ever for Mahi as she navigates her life thru menacing competition, ruthless media, bitchy trophy wives, promiscuity and many more such negative attributes that is come to be associated with the big bad world of show business. She doesn't care for competition (Mugdha Godse, linear) she says, rather shedding buckets pinning for the affections of her commitment-phobic lover Aryan (Arjun Rampal, effective, one-dimensional, wasted).
That Kareena is one of the strongest female actors we have for this generation has been long proven. In Heroine we see her enacting multiple characters as has done in her decade old career. Been there, done that. As arty as in Chameli, as glamorous as in Kambakth Ishq, or as gutsy as in Jab we Met, in Heroine Kareena emotes her mascara out, using her deglamorized hypnotizing stare to soul stirring effect. She bawls and sulks and shrieks and whines, plays coy, throws aggressions, pouts in 50 shades of Lakme and "feels the character" much like an award-winning (and hence automatically translated to low-budget) filmmaker character (Ranvir Shorey, delightful) insists is the mantra to a good performance. Yet at times her effort goes overboard, you can't help but feel agonized at the over-acting, possibly a result of subconsciously knowing that she is playing herself or someone she knows.
Heroine tells its story quite blatantly stringing together episodes of incidents picked loosely from gossip magazines of the past decade or so. A-lister married philandering actors – check, catty star wives – check, sportsmen with an eye for actresses – check, predatory journalists – check, crafty PR – check, gay designers, backslapping celebrities, smarmy businessmen and politicians – check, check, check. There is no attempt at bringing in any novelty, one that hasn't been available off the internet or in Madhur's own films earlier.
There is a belief that any cause is a lost one when the person helming the cause rises above it. The same applies to movies. You know the film has failed at its intentions if the character stands taller than the film itself. For Heroine, Madhur and his co-writers Anuradha Tiwari, Manoj Tyagi and Niranjan Iyengar aren't able to yank off the ghosts of Madhur's directorial pasts, running on staple ingredients. The inevitable fall of the woman protagonist spelled through a series of moral science lessons saddled on that one punch-line mouthed by Shagufta Rizvi (Helen). Yesteryear actress, reduced to a character artiste. Unlike Madhur's other films, this one is deprived of a graph, the lead character doesn't have an arc. She fails, weeps, trips and fails some more. The focus is on the wrong-doings around her, not so much on her fight against it. 'Manipulate or get manipulated' her aggressive publicist tells her. She plays the game the callous way, you revel in her slow rise, but it lasts a fraction of the movie. She's too righteous for her own good which we are told in the end reels always leads to shrugging off your identity and disappearing into oblivion.
All the glamour and the sensational allure of Madhur's great Bollywood expose is let down by a limp screenplay, lame dialogues and an astonishing two and a half hr runtime. Sadly it was such a good material at hand, sadly none of it is explored to the best of its potential, sadly none of it is as earnest as the lead trying to play it.