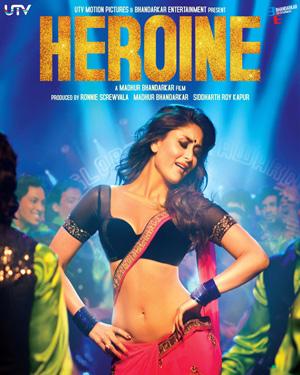 Reliance Home Video and Games recently released the critically acclaimed film Heroine on home video. Produced by UTV Motion Pictures & Bhandarkar Entertainment, directed by National award winning director Madhur Bhandarkar; the film stars Kareena Kapoor, Arjun Rampal, Randeep Hooda, Divya Dutta and Shahana Goswami.
Heroine is the flashback tell-tale of actress Mahi Arora (Kareena Kapoor), her journey from lows to lows as narrated by TV presenter. Good karma playing truant, there doesn't seem to be anything going well ever for Mahi as she navigates her life thru menacing competition, ruthless media, bitchy trophy wives, promiscuity and many more such negative attributes that is come to be associated with the big bad world of show business. She doesn't care for competition (Mugdha Godse, linear) she says, rather shedding buckets pinning for the affections of her commitment-phobic lover Aryan (Arjun Rampal, effective, one-dimensional, wasted).
One of the most awaited movies of 2012, Heroine opened to average reviews with most critics panning the film for no novelty in script. The film had sufficient material and potential to be a decent flick, but was unfortunately cut short of its capabilities with the director playing a little safe than was required of the subject, with the only respite then being Kareena Kapoor – perfectly cast, who can play an actress without being self-righteous.
Incidents picked up from real life, characters modelled on real people of the fraternity, the film is fun in places , offers light chuckles and guilty pleasure especially to those who've been part of the industry and can play a neat game of spot the reference with this one. Despite a formulaic plot, Heroine can boast of some cleverly written sequences, which make it a DVD watch worthy.
As a bonus feature the DVD includes the making of the movie.
Available pan India across all leading Home Entertainment chains and also on key online portals the DVD is priced at Rs. 299/- and VCD at Rs.115/- and has English subtitles for international viewing.