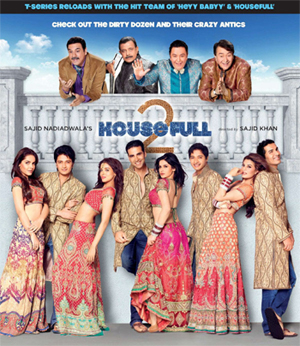 Scene: Akshay Kumar, Riteish Deshmukh, Shreyas Talpade and Chunky Pandey are huddled around a table in a condo balanced precariously and Akki says, "Langoors, have my angoors." When one of them tries to have one too many, he yells at him and asks him to "ek ek karke kha". Still, it's too late and the condo starts shaking with all four bumping into each other and the people on the roadside thinking that you-know-what is going on inside.
This is how pretty much most of the gags are in this Sajid Khan comedy caper Housefull 2. Yes, we know he doesn't care about the critics but I am going to quickly review it anyway. There is always the fact that many a times though the 'intellectual' lot may hate the movie, the masses often end up enjoying it. Being a Bollywood comedy, I am not going to scrutinize the story and try to make sense of it – we all know we are expected to leave our brains home for such movies. It's a bit difficult to outline the story but if you insist I will do it. Rishi Kapoor and Randhir Kapoor are two step brothers at loggerheads and their respective daughters – Asin and Jacqueline Fernandez – hate each other too. Both of them are in search of rich son-in-laws and when one of the prospects (Shreyas Talpade) tries to take revenge for the insult of his father with the help of his friend (Riteish) and college friends-turned-foes Max and Sunny aka John Abraham and Akshay, things get chaotic and out of hand. Since the title has to be relevant, we end up in a mansion with the dozens of characters where there's confusion galore as to who is who and with whom.
This pretty much forms the outline for the comic gags. In hindsight, this could have been a damn good premise for some really funny sequences. But barring some scenes, we have nothing much to laugh about. This is spoilt further by the fact that for some reason, Sajid infuses a lot of melodrama and – this I can only presume is because we have two beefy actors – action which kind of takes away the fun. Housefull 2, well, is funnier and less loud than the first one and for that we are thankful. But we have the usual suspects – typical caricatures, loud characters, dumb bimbo female roles and too many people. Sajid also brings a 90's feel to this movie; we have Rishi and Randhir as Chintoo and Dabboo Kapoor respectively with music from Raj Kapoor movies playing in the background whenever they come on screen, their daughters are named 'Heena' and 'Bobby', we have the villain with the most number of rapes onscreen Ranjeet who plays Akshay's dad, we have the bachpan main pakki ki hui shaadi…and some more.
Since story, script and other such things aren't really important in such movies, it's the performances which determine how funny the film is. The senior actors – Rishi, Randhir and Mithun Chakraborty – pretty much manage to do as much as they can with their characters, although Boman Irani ends up being the loudest and hams the most. Having done numerous Priyadarshan movies, Sunny is a piece of cake for Akshay. John tries to be funny; in fact he tries so hard that it shows. Which is definitely not good, but you are happy that the poor chap is at least trying. Riteish is as adorable as he always is in such movies and Shreyas unfortunately doesn't have much to do. The ladies have absolutely no contribution except being pretty and decorating the screen. In that Jacqueline succeeds the most, followed by Asin and Shazahn Padamsee. Zarine Khan thankfully is used very little.
My rating might confuse you a little considering I have not really said many positive things about this movie. But here's the fact: whether you like this movie or not definitely depends on where you see it and with whom. If you watch this in a multiplex, you might want to find Sajid and strangle him. But if you watch this a theatre with the 'mass' crowd with a group of friends – like I did – after a stressful day, you might end up enjoying this brainless caper.