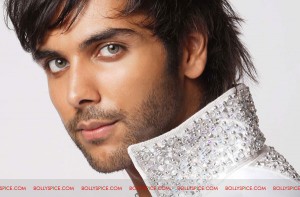 Just Dance seems to have taken the film, dance and reality television worlds by storm. Boasting talented participants scoured from all over the world and judges who are well-established within the Indian cinema, the show is a firm favourite with its audiences. The icing on the cake for the show is in seeing, for the first time, a judge in the gorgeous Hrithik Roshan. His dancing style is admired by all and what better way to make a transit to the small screen than to judge a dance reality TV show.
The choreographing duo, Farah Khan and Vaibhavi Merchant, spent weeks visiting different parts of the world to find who would go on to be (as Roshan has been known to say) "the best dancers in the world". While on their search in the UK, they came across Karan Pangali. The twosome were immediately impressed by Karan's stage presence and his versatility as a dancer. From that very first audition in the UK, Karan has danced his way into the viewers' hearts.
Back home in London, Karan has his own dance school known as Karan's Bollywood Masterclass and it's become apparent that his talents do not end at dancing alone. He is, in essence, a performing artist who teaches his students the art of dance. He is also a keen musician, actor and model. If his many talents are anything to go by, it can be said that Karan's future within the fraternity – be that in the dancing, acting or choreographing arena – will go beyond Just Dance.
I had the unique and extraordinary opportunity to catch up with the popular contestant who is currently shooting for the show in Mumbai. Check out this exclusive interview!
When did you decide you would audition for Just Dance?
I knew within one second of seeing the initial Just Dance audition poster that I would like to be part of the show.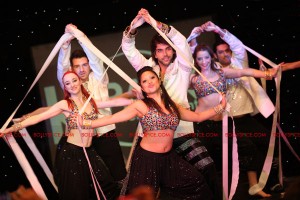 What were your feelings and experiences both before and after your audition performance?
When I discovered Farah Khan and Vaibhavi Merchant were taking the first auditions, I was full of excitement and energy! They are two people who have been an inspiration to me over the years and not to mention helped bring out the best in our Bollywood industry. One part of me was overjoyed to know that I will be performing in front of them and another part of me was little anxious about what I would do and what they would be like.
For the London audition I wanted to prove that I may be miles away from India but I have not forgotten my dance roots. Therefore, I decided to start with a classical dance piece which then progressed to a hip hop piece. As always I rehearsed solidly, and, being the perfectionist that I am, also worked out how to do a costume change to reflect the two contrasting styles within the single performance.
I was happy to be the first contestant in the UK to receive a direct ticket to Mumbai from my audition performance. The judges stood up and embraced me and that was the best feeling ever. That one moment epitomized all the passion, training, and love I have put into my dance since childhood.
How did it feel knowing that Farah Khan mentioned that she got a feeling that you might win the contest after seeing you perform for the first time?
I actually did not know that until the episode aired after the auditions. I felt incredibly special as well as humbled at the same time. Farah has created magic on our screens and is one of the best directors in the industry so for me it is an incredible compliment.
How would you describe your journey from London to Mumbai?
I would say it's been full of question marks. There were many questions going around in my head regarding what would happen in India, when I would first perform for Hrithik, what the other contestants would be like, where we would be staying, who with, what dance styles I would be doing, etc. I uploaded my favourite Hrithik songs on my iPod to help take me back all the moments that inspired me while watching him dance over the years. My family and friends were very emotional at the airport because it was, potentially, the last they would see of me for a good few months.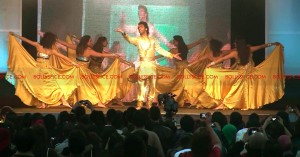 What do you feel you will take away personally from the process?
I will take a sense of achievement, accomplishment and a status of being one of the world's best dancers. I believe there were over 25,000 dancers who auditioned for the show and to be part of the top 12 is phenomenal. I have attained a new found love for India, living here now for over three months. It really has become a second home. I am one of the few contestants that has no family in Mumbai but the love and support that I have received from everyone has made me feel so welcome and I definitely have the biggest Indian family now. Also, it's given me a feeling of pride that I was able to represent UK on a global platform and show India how proud and passionate we are of our culture and dance.
I feel I have become a more refined performer and have learnt so much from how to adapt to the cameras, lighting and stage. It's been incredible learning from gurus such as Saroj Khan, Terence Lewis, Michelle (Hollywood Choreographer of Chicago).
Your thoughts about the three well-known stars of Just Dance: Vaibhavi, Farrah and Hrithik?
Vaibhavi: a technician of dance.
Farah: straight talker, she says it exactly how it is which is what I appreciate most about her. She is the most senior and experienced judge and I really value her comments.
Hrithik: Everything I expected him to be and more. His humbleness is what makes him such a superstar. He has become a friend, mentor and like an older brother.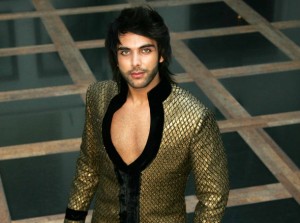 Describe your average day on the sets and in preparation for your performances for the show whilst in Mumbai?
It's been a non-stop rollercoaster ride ever since I landed here. As time has gone on it has become harder and more intense. There are times where we shoot and rehearse through the night and on an average night I get around five hours of sleep. Every week we have to learn two new pieces within 2-3 days and the rehearsals can sometimes be 15 hours straight. I remember once leaving the hotel at 8am and returning at 11.20pm! You end up loosing track of time, dates and days because you are just on the go all the time. It is fun to be dancing all the time, but there have been moments where your energy levels slip and that can be difficult when you're on such a compact schedule.
As a dancer, what would you say is your USP?
I would say my USP is my ability to adapt my body movement to suit a plethora of dance styles. When I arrived in Mumbai and my fellow contestants saw me for the first time and heard I was from London they assumed I would be just another hip-hop dancer. When they saw the way I perform Kathak they were in shock and then when I did hip-hop it shocked them even more. Also I feel my ability to fuse Indian classical with a Western and a contemporary form is what makes me unique. I also like to project my personality through my dance and I feel this is what people connect with.
Any messages for your well-wishers and supporters?
I have the most beautiful and amazing fans ever. I want to reach out to each individual and thank them for all their continuous love and support. I feel extremely proud that Just Dance has enabled me to connect with all of them. I now perform not just for Hrithik, Farah and Vaibhavi, but for all of you across the world who believes in me and my dance. Keep rocking and spreading the love.
I'm sure you will agree that Karan sure is a talent to be reckoned with and a star in the making. If you would like more information about his dance school, please visit www.karanlive.com. We wish Karan well not only for Just Dance but also for his very prosperous and promising future.