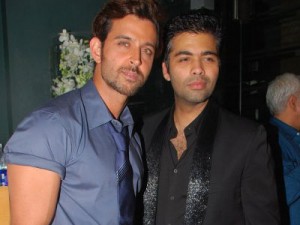 Karan Johar has always been seen as one of the most loyal friends in Bollywood. This time, looks like both Karan and Hrithik Roshan have developed a strong friendship that has taken shape into some big budget films. Karan is impressed and praising Hrithik for his work and character in his latest film Zindagi Na Milegi Dobara. On the other hand, in a recent interview, Hrithik said he wanted Karan to be a part of their promotional event, as he finds his company fun-filled.
Hrithik and Karan have known each other since childhood, since both of them belong to the filmy 'khandan'. But both have grown to become very different as artists and individuals.
It will be quite interesting to see their work in the form of K3G sequel and the new Agneepath remake in which Hrithik stars along side Priyanka Chopra. In the K3G sequel, the screen will again sizzle with Amitabh Bachchan, Jaya Bachchan, Shah Rukh Khan, Kajol, Hrithik & Kareena Kapoor after one whole decade. With Karan's magic and Hrithik's screen persona, their work will do wonders for their audience as well as their friendship.