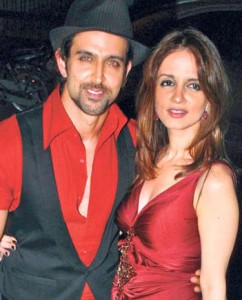 After 17 years of courtship and marriage, superstar Hrithik Roshan and wife Sussanne have decided to separate. While speculations were prevalent for the past few months about brewing trouble in the Roshan paradise, fans and audiences dismissed it as just another rumor about Bollywood's poster couple. However these stories were confirmed after an official press statement was released by Hrithik earlier today, while requesting that the family's privacy be respected.
The official statement read: "Sussanne has decided to separate from me and end our 17-year relationship. This is a very trying time for the entire family and I request the media and the people to grant us our privacy at this time. I do not wish this news to disempower my fans and the people about the institution of marriage in any way. I am a firm believer in this institution and respect and honour it at the highest level."
Hrithik, who is currently in US for tests regarding his recurring headaches, assured his fans that India's superstar was well on his way to speedy recovery.  "And once again I thank my fans for all the concern and prayers for my health, my treatment is going well and I should be able to resume my life in every way very soon. Thank you"
He added later on his official FB, "This is my greatest tribute to love. Sussanne is and always will be the love of my life for the rest of my life. If her smiles are brighter without me my love for her must accomplish that. Unconditional."
Bollyspice urges its readers to be empathetic of the Roshan and Khan family's emotions and not intrude their personal or virtual space.