It takes two to tango and Hrithik Roshan and Yami Gautam were out to prove just that, at the launch of their song Mon Amour from their upcoming film Kaabil. The lead actors of the film hit the stage dancing to the tunes of the mesmerising track, performed live by a band called Udaan, comprising of visually and physically impaired artists.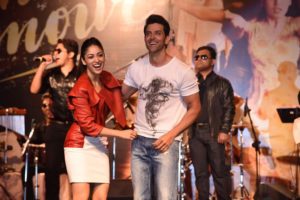 Hrithik and Yami shared an easy chemistry on stage. A treat for sore eyes, the two sang and danced as Mon Amour played in the background. The two actors, who have come together for the first time, play a visually impaired couple in Kaabil. As the event progressed, producer Rakesh Roshan along with the composer Rajesh Roshan, Rohit Roy, director Sanjay Gupta and Bhushan Kumar of T-Series joined Hrithik and Yami on stage.
At the launch, Hrithik shared let in that he signed on the dotted line, with many questions looming on his mind. "I had many questions and then I opened my mind. I met several visually impaired people who are CEOs of companies, photographers, lawyers, kung fu masters, and guitarists. The visually impaired people are not truly disabled, but are more capable as they live with one sensory less." said the actor.
Producer Rakesh Roshan was all smiles at the phenomenal response that the music and trailer of Kaabil has received and Mon Amour is yet another feather that has been added to the illustrious hat of Kaabil.