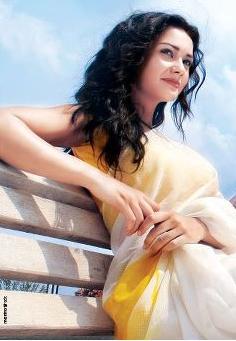 Couple of years ago, she was just another doe-eyed teenage British model winning a spate of beauty pageants. In a stroke of luck, the casting director of her debut Tamil movie Madrasapattinam spotted her pictures on a website and called her for auditions. For Amy, who had barely been introduced to Indian cinema, she maintained initial qualms about considering cinema as a career. "Though I was familiar with Bollywood since there are many in Britain who watch Hindi movies, I hadn't watched any of these films before I came to Chennai", she confesses. But casting director AL Vijay had made up his mind, and days later Amy found herself amidst workshops at Chennai studios, preparing for her cinema debut. The film was a runway hit. That set the ball rolling and soon she was signed up for Tamil cinema's popular director Gautham Menon's next bollywood rom-com Ekk Deewana Tha opposite Prateik.
She is at a photoshoot at a suburban studio, and the ease with which she has settled into the groove was as if she's been working here for the most part of her life. Promotional activities, dance workshops, interviews, she breezes thru it all flashing the dazzling smile. She resembles Amy in Wonderland, "It's so new, it's crazy, but in a fun way and I'm enjoying it" she laughs.
The release of her film Fox Studios Ek Deewana Tha is around the corner. "I play a Malayali Christian girl, Jesse. We have shot the movie in New York, India, Kerala and Chennai over five months. It was a great experience working with such a young and talented actor like Prateik. And Oscar-winning composer A.R. Rahman did the music!" she says. What about director Gautham Menon, who's won accolades for the Tamil and Telugu versions of EDT. "He is such a calm and collected director who gives his actors the freedom to experiment. It was nice to be able to give my opinion. A couple of weeks before we began shooting, we did a workshop to understand the personalities of the characters we were playing. Gautham gave me a lot of freedom."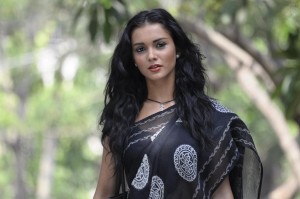 Days spent front of the camera are now replaced with hours accompanied by a Hindi tutor. "The British accent is hard to miss. Ever since I decided to shift base to India and made Mumbai my home, I have made an effort to learn Hindi and even take diction classes. I couldn't understand a word of Hindi earlier. Though my voice will be dubbed in the movie, it was easier to memorize Hindi than Tamil. Before takes, I used to practice my lines for almost an hour to get it right" Plus she has co-star Prateik supporting her when she has troubles with the language.
For someone who was reluctant to get into cinema, the move from Britain to Bollywood sounds daunting "I was new to acting before my role in Madrasapattinam. I have been away from home since I was 17. I went to the US to start my modeling career at a very young age. So, venturing into films and handling the pressure isn't a big task."
With all the over-whelming changes, how did her family and friends react to seeing her act? "They were surprised to see me on screen! Once Madarasapattinam released, we had a premiere in Liverpool for my friends and family. Even today, many of my friends who are in university back in England find it tough to believe that I am part of Indian cinema. Some of them think I am crazy. For me, this has been a dream come true!"
Ek Deewana Tha releases in theaters on Friday, February 17.