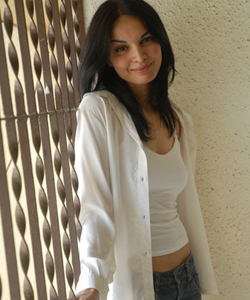 For those familiar with indie movies, Seema Rahmani is not a new name. Having started her acting career with television, Seema made an impression with her movie Sins (starring Shiny Ahuja) followed by Loins of Punjab Presents and Missed Call. The lovely actress in an exclusive with BollySpice:
How did acting happen to you? Is this something you always wanted to do or it happened by chance?
It happened by chance. I had performed in a musical and a play in school but didn't know I would be an actor. I was in public relations for two years when I realized it wasn't the career I wanted for the rest of my life. A couple of people suggested I go into modeling. I didn't really want to do that, and so I took some time off, prayed intensely for direction, and the universe conspired, so to speak, to nudge me into the acting line.
You initially started your career with TV soaps 'Roswell' and 'Alias'. How did the transition to films happen? Which did you enjoy doing more?
Alias and Roswell were primetime action and sci-fi TV shows, not the saas-bahu soaps which I haven't been interested in. But bagging a role in them turned out to be easier at the time than getting a good role in a good film in Los Angeles. I was very actively into theatre, but every actor wants to make a living with her art, so films were the obvious choice. I didn't go from TV to film. I just happened to do small parts in those two TV shows. Then I shot a couple of indie films in L.A. before moving to India. I enjoy work that makes sense to me, be it on TV or in films, it's all equal as long as the content and production value is of good quality.
Sins was in the limelight mainly for the controversy it created and the nudity in the movie. Weren't you disappointed by the reaction to your movie?
Sins was in the limelight prior to its release because of the controversy over showing a priest having an affair. And honestly that's the only hoohaa I recall around it. I don't know if seats sold because of the nudity but I didn't come across any headlines about it. It ran for several weeks and I was actually appreciated as an actor in the industry and by audiences because of my performance. It put me on the Indian map as a serious actor. How can I possibly be disappointed by that!
How did Good Night, Good Morning happen? Tell us something about the movie and your character in the movie.
Apparently Sudhish Kamath came across a comment about me written by one of my fans and then looked up his own review of me in SINS. He had liked my work. He then rented Loins of Punjab Presents to jog his memory about my work and that's when he was sure I was right for the part. He immediately emailed me the script, I read it that same night since he needed to start his movie soon, and the rest… is playing at PVR theatres.
What is it about the movie that made you say yes to it?
The writing was brilliantly conversational, real. The story was apt for our situations in life these days, the concept was unique, appealing and intelligent, and the role was refreshingly inspiring for an actor who likes to pour her creativity into a character. Plus Sudhish was very down-to-earth and understanding over the phone when I shared my thoughts about the script to him. So this project had a lot going for it.
How is Manu Narayan as a co-star? How was the experience working with your director Sudhish Kamath?
Manu is a sweet man who is filled with feelings. And his sensitive nature definitely shines through in his character. I loved that he was cast in the role. And Sudhish, what can I say, I want to work with him again and again and again and again and again…
How much of Moira is Seema? Of all the characters you have played so far, which one do you identify with the most and which one you found most challenging?
There are three lines Moira says that are Seema, the rest of the cynical character is just Moira. So there is a lot about Seema that isn't seen in the movie. Which three lines? Let me know if you want to know. Perhaps my character in Loins of Punjab is the closest to who I have been in my life at some points. And it is also the one I found the most challenging… I actually thought I had done a horrible job when I was all done shooting. Then I saw the movie and I breathed a sigh of relief. That was the first time I had had such an experience!
How was your experience working with Manish Acharya in Loins of Punjab Presents?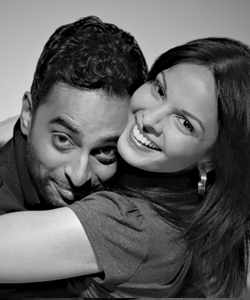 I love my friend Manish Acharya. And since he isn't in any form currently that would appreciate my speaking well of him as a film director, I'll just say, thank you Manish for every time you were caring and sensitive as a friend. He is a hard topic for me to talk about still. I miss him when I do.
Tell us something about your movie Love Wrinkle Free.
It's a fun, light-hearted, quirky characters-filled movie written and directed by Sandeep Mohan who also made a brilliant short film called "Bomber Briefs" (on Myspace). This first feature film of his has an ensemble cast evolving around Ash Chandler's character and including terrific actors like Shernaz Patel, Sohrab Ardeshir, and Ashwin Mushran. It's set in Goa.
From your personal site and the nonprofit work you have done it seems that you have a lot of affinity for animals.
I was born loving, protecting and caring for them.
Will we see you in any Bollywood masala movies in future?
Do movies like Ishqiya, Iqbal, Munna Bhai, Delhi Belly, Jab We Met, Honeymoon Travels, Paa, and Lagaan qualify as Bollywood masala movies? If they do, then I hope so!
Good Night, Good Morning released to positive reviews last Friday.
Be sure and check out why our writer Pooja Rao said Good Night | Good Morning is Highly Recommended here!