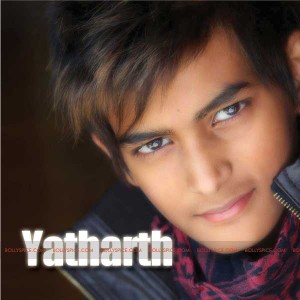 Last week we introduced and for many of you re-introduced you to Yatharth Ratnum the runner-up to 2009's SRGMP Lil Champs. He impressed fans the world over with his incredible talent and range as a singer. Of course, he continued to sing and in 2010 Yatharth won the category of Outstanding International Vocalist from The Young Artist Awards. Pretty impressive for the now fifteen year old and this is just the beginning. The young singer has continued working hard honing his craft, writing music and songs and tomorrow sees the release of his debut album titled YATHARTH. Check out what Yatharth told us in this fun, passionate and well, we have to say cute and at the same time very impressive email interview as he talks music, hints at his debut in movies and whom he would love to do a duet with!
You participated in SRGMP Lil Champs in 2009. What has life been like after the show?
Oh well my life took a wonderful new turn after Lil Champs 2009. Watching millions of people who love you so much, is the best feeling in the world. I have been really busy after that touring, recording, shooting, and studying. Had a few offers for other TV shows and reality shows, but right now I'm not in a mood for TV again. Recently I am filming a new Bollywood movie in India as the lead actor :).
You are from Varanasi and moved to Mumbai. Was that a difficult change?
Not really it wasn't very hard because I've always kept myself busy with work .. So Mumbai has always been fun.
Now you are in America. That must have been an even bigger change than moving to Mumbai.
Ahhh… This is really a huge story. I was invited in USA for an award function (YAA) in 2010 and ended up recording my new album, which comes out on May 22nd. It's amazing how life can move so fast, and I love it.
Why go to the US for your album?
I love recording here in California. I've got high dreams in music and I think this is the place where I can make it big.
You are releasing an album in English. Why did you choose to sing in English and not Hindi?
English is a language, which can be understood everywhere in world, and I wanted the whole world to listen to my music so I chose to make an album in English.
You have written some of the songs yourself. You are so young, where do you draw your inspiration from?
Yes, four of the songs in the album are originals written by me. My real life has always been my greatest inspiration. I write whatever I feel like and that definitely depends on my mood. Love, hate, happiness, sadness and every emotion that can be felt inspires me to write music.
There are six songs on the album. Could you tell us a short funny, memorable anecdote to go with each song when you think back of while you were writing or recording them. 
That's my favourite question to answer.
Starting with 'I love you'. This was the first ever song I wrote when I was 13 . I wrote for a girl I really liked in my school, this song was her birthday gift.
It didn't work out though. Lol
'Cosmic' is a really cool track. I remember, how excited Matt was when he wrote this song for me. I heard it in the car and I was blown off. Then we did some fusion of Indian classical in this song.
'Tonight' is a really sexy song. It's a track worth dancing.
I wanted to write a song with a really Exotic title .. I worked on it and finally wrote 'Mirage'. I did some really cool rhythm pattern for this song.
Now there's this Insane sounding song called 'Insane'. We had a lotta fun recording this song. I remember Harper (Music Producer) always making fun putting an ambulance sound going with the title Insane. We never ended up doing that . Haha but it's such a cool track for clubbing.
I always wanted an anthem for myself so at the last day if recording I wrote 'YR' which is a Pop-Rocker . I remember writing it in the day and recording it in the evening. I heard it and I was like 'Yeah Mayn, YR is on'.
So that's how we made this album 🙂
How did the album turn out?
Amazingly beautiful. I love my debut album. Every song is so different from each other so it gives a nice playlist. My personal favourite is 'I Love You'.
Who are your influences?
I am a big fan of Indian classical Music. So I love Indian classical musicians. I love some old legends – M.J., Guns n Roses, Slash, The Beatles, Usher. Recently I love Adele.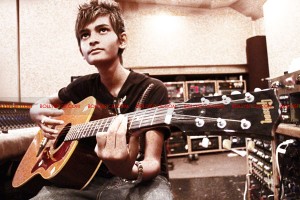 What do you think of Bollywood music?
I think it's the most colorful and vibrant music in the world and I love it.
Do you want to sing for Bollywood movies?
Yes, as a matter of fact I am singing three songs in the movie that I am busy shooting in India right now. It's my Actor/Singer debut in India too 🙂 I am really excited for my fans to hear my new songs.
What do you think of the Indian music scene outside of the movie industry?
I think people love listening Bollywood music and now Bollywood music is also incorporating with the western musicians and music so the current music scene is really interesting and amazing right now.
If you could work with any music director in Bollywood who would it be?
I've recently worked with Aadesh Srivastave and Monty Sharma in my upcoming movie. I wish to work with A.R Rahman and Shankar-Ehsaan-Loy. They are so amazing.
If you could work with any other singer, who would you love to do a duet with?
This is an awesome question… I'm a sort of lady's man so I wanna record with every female singer in the world. I imagine how wonderful can that be. Haha
Your thoughts on Indian music making its way much more out into the world.
I think that's what I'm trying to do here I take myself as the ambassador of Indian music here in America and pretty sure its gonna be superb!!
What are your hopes for your career?
High hopes. I've just started and I'm working hard .. Rest is all up to people who love me and God 🙂
We wish you lots of success for your career and of course your first album.
Thanks a lot for having me. God Bless 🙂