Many of our writers along with their Bollywood love, also proudly proclaim their love for the Harry Potter series. Most of us have read all of the books several times over and have seen all the films. We wish that we lived in the magical world of Harry Potter and in fact, most of us have said one time or a thousand, 'I would love to go to Hogwarts'! The last film has made its way into the theaters and though the books are still there so we can visit, we will never again wait impatiently for the release of the next book or film. Since we are geeks in both Bollywood and Harry Potter we thought it might be fun and yes, as a way to distract ourselves from the sadness, if we thought of the perfect cast of Bollywood actors to take over the roles of the films. Some say never should the two meet and we know it will never happen, but we thought it would be really fun to see who we could come up with! We originally thought we would just have one actor for each character but each time someone said, 'Oooh, he would be perfect' or "Yes! She has to play….', we had to add another to the list. Since in the end we could not decide we thought we would list them all for your reading pleasure.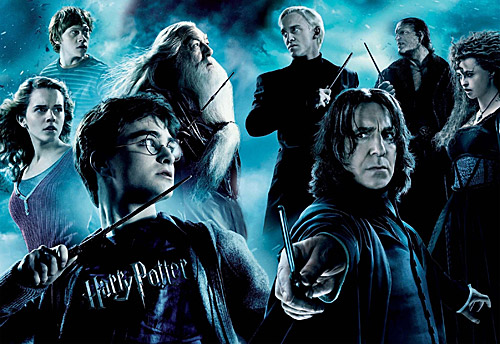 We now present our wish list of who we would love to play some of our favourite characters in the Harry Potter films.
Dumbledore: Amitabh Bachchan, Kabir Bedi
Young Harry Ron and Hermione
Newcomers
or
Ron: Darsheel Safary
Harry: Tanay Chheda
Hermione: Sana Saeed
Grown Up HRH
Harry: Ranbir Kapoor
Ron: Imran Khan or Riteish Deshmukh
Hermione: Sonam Kapoor
Grown up Draco: Vivek Oberoi
He Who Must Not Be Named aka You Know Who: Sanjay Dutt, Aamir Khan, Ashutosh Rana, Anupam Kher
Professor McGonnagall: Shabana Azmi, Kirron Kher, Rekha, Nafisa Ali
Hagrid: Boman Irani, Kunal Roy Kapoor, Madhavan, Satish Shah, Sanjay Dutt
Snape: KK Menon, Irrfan Khan, Ajay Devgn
Sirius: Ajay Devgn, Hrithik Roshan, Abhay Deol
Lupin: Saif Ali Khan, Irrfan Khan,
Tonks: Genelia D'Souza
Peter Pettigrew: Rahul Bose, Dino Morea, Upen Patel
James and Lily: Kunal Kapoor and Konkona Sen Sharma
Fudge: Anupam Kher, Akshay Kumar
Umbridge: Shabana Azmi, Dimple Kapadia
Professor Trelawney: Juhi Chawla
Gilderoy Lockhart: Salman Khan, Shah Rukh Khan Akshay Kumar
Molly Weasley: Kiron Kher, Kajol, Shernaz Patel
Arthur Weasley: Anupam Kher, Irfan Khan, Vipin Sharma, Suneil Shetty
Lucius Malfoy: Akshay Kumar Akshaye Khanna
Bellatrix: Vidya Balan, Kareena Kapoor
Narcissa:  Urmila Matondkar
Professor Quirrell: Manoj Bajpayee
Ginny: Shreya Sharma
Firenze: John Abraham
Oliver Wood: Imran Khan
Fleur: Kangana Ranuat
Mad Eye Moody: Boman Irani
We hope you enjoyed reading our list. We are sure we missed some so please comment and tell us who you would think would work as the perfect Bollywood cast of HP!