September 9th will see Yash Raj Films' fun filled comedy Mere Brother Ki Dulhan starring Imran Khan and Katrina Kaif come to theaters. Directed by Ali Abbas Zafar, the film is romantic comedy that see both actors bringing new personas to the screen: Imran, who for the first time is playing a broader funny character, while Katrina is going total rock chick! The first look promos and the just released music certainly has us and fans excited to see the film!
Check out this exclusive interview with the two stars as they talk a little bit about what drew them to their roles!
httpvh://www.youtube.com/watch?v=8j5D17r3n3Q
You have heard what they had to say about the film, now meet their characters!
Name: Kush Agnihotri
Age: 28
Profession: Assistant Director
Status: It's Complicated
Dehradun boy Kush Agnihotri (Imran Khan) lives in Mumbai and works as an assistant director in the film industry. But his newest job is to find the ideal Indian bride for his elder brother Luv Agnihotri, who lives in London. After a long search, the sincere Kush eventually succeeds in finding that right girl in Dimple Dixit. But things start to get crazy, when he falls for his brother's dulhan!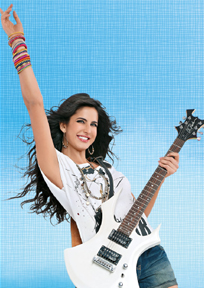 Name: Dimple Dixit
Age: 27
Profession: Been there. Done that.
Status: Available
Dimple Dixit (Katrina Kaif) is a classic case of bahar se kuch aur, andar se kuch aur. Born in London, this livewire has always believed in living life with no boundaries yet she's always remained a true desi at heart. Dimple decides that she wants to finally settle down in life and is on the lookout for a "rich sorted out package".