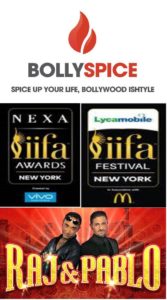 n a worldwide first, BOLLYSPICE and RAJ&PABLO will be providing a unique insight to the magical world of Bollywood at the IIFA Awards. Bringing the magic of India's equivalent to the Oscars, which are being held in NEW YORK running July 13th to the 15th, we are teaming up to showcase this special event as only we can Bolly-ishtyle!!
BollySpice is the popular webzine that covers all aspects of Bollywood from brilliant reviews, news, amazing features and of course our fabulous interviews with all directors, composers, musicians and of course the stars of Bollywood including Shah Rukh Khan, Salman Khan, Alia Bhatt, Priyanka Chopra, Deepika Padukone and more!
The "Bollywood IT Boys", are the award winning Raj&Pablo. The bollytastic duo are considered, alongside Rajeev Masand and Anupuma Chopra, as THE world experts in the field of Bollywood – The dynamic duo present THE RAJ&PABLO SHOW, the No1 Bollywood Show for BBC http://www.bbc.co.uk/programmes/b007qmxj/clips
Raj&Pablo comprise of Raj Dhanda and Pablo Sat-Bhambra. They are on first-name terms and count among their friends some of the WHO'S WHO of Bollywood, They have interviewed Bollywood's top stars including Salman Khan, Shah Rukh Khan, Amitabh Bachchan, Aamir Khan, Priyanka Chopra, and Aishwariya Rai Bachchan to name a few.
Raj&Pablo will be conducting exclusive interviews and capturing the star studded event with photos and highlight clips. Teamed up with Bollyspice and their team of writers, we will be bringing you a world-first and world-class look at the spectacular event.
The 18th Edition of the celebration of Indian Cinema worldwide looks to be an another incredible event!
Starting tonight with IIFA Stomp, the events starts off with an entertaining mix of fashion, music, dance and more! The IIFA fever is set to grip Times Square as Bollywood actor Varun Dhawan will be showcasing his DJ skills at IIFA Stomp! Electronica icon B.R.E.E.D, DJ Nasha, DJ Amann Nagpal and Karsh Kale will raise the IIFA Stomp party with their unique beats for the audience.
Furthermore, IIFA Stomp will present the best of fashion and style with a glamorous Fashion Show right in the heart of the city! The lineup features Bollywood's star siblings- Shraddha and Siddhanth Kapoor as show-stoppers for the NEXA collection by Shane and Falguni Peacock. Designers Shane & Falguni Peacock will also present rising Bollywood star Disha Patani. Myntra's Fashion Show shall be opened by the talented actress Dia Mirza with Tapsee Pannu as the showstopper.
The party continues with IIFA Rocks on July 14, which will celebrate 25 years of A. R. Rahman in the industry. The show is set to feature a never-before-seen medley of musicians that include Diljit Dosanjh, Benny Dayal, Javed Ali, Neeti Mohan, Jonita Gandhi and Haricharan Seshadri. IIFA Rocks will be hosted by the charismatic duo Riteish Deshmukh and Manish Paul.
Then the crown jewel of the weekend is the NEXA IIFA Awards on July 15, which is among the most coveted and highly anticipated award celebrations that honors the very best of Indian Cinema with the highest level of achievement. Audiences will witness stunning performances from Bollywood megastars such as Salman Khan, Alia Bhatt, Katrina Kaif, Shahid Kapoor, Sushant Singh Rajput and Kriti Sanon to name a few. Hosting the show are Karan Johar and Saif Ali Khan.
Raj & Pablo say, "IIFA NEW YORK 2017 is gearing up to be the best IIFA we have ever been to ..and we have been to a few….#BOLLYWOOD ROCKS … God Bless America for such a warm welcome!…"
Stay tuned for the best coverage of #IIFA2017 Follow us @bollyspice on Twitter and Instagram as we team up with RAJ&PABLO at IIFA.
 
More about Raj&Pablo
The duo were introduced by Nina Wadia who cast them in her award winning play "Oh This Feeds My Soul". They then went on to star alongside Karen David for Stratford East's adaptation of the classic Bollywood movie Baiju Bawra., as well as signing to Kuljit Bhamra's Keda Records. They have released various pop albums as AASHA – and as Raj&Pablo the last being LOVE BOLLYWOOD for EMI /BBC ASIAN NETWORK. 
 
The BBC Asian Network spotted them as at the pioneers of the global Bollywood wave and signed them as presenters for the flagship FILM CAFÉ and THE LUNCH SHOW in 2003. They went on to present LOVE BOLLYWOOD and as their stature, their popularity increased BBC and renamed show to THE RAJ&PABLO SHOW.
From last year's IIFA to get you excited