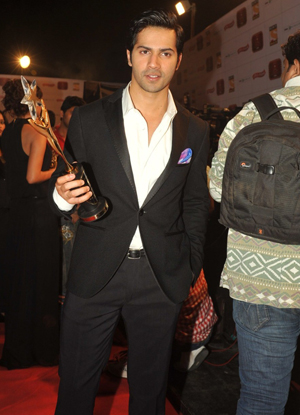 He's sporting a perpetual grin of late and he has all the right reasons to. Dressed in formals teamed with loafers, Varun Dhawan is much more relaxed than the last time we met, during the release of SOTY. He's just walked off-stage after winning the Debutant award for 'Student of the Year' sharing it with co-star Sidharth Malhotra. 'Three months already? Time really does fly fast when you're having fun', he states flatly. He's completed the last of his awards commitments and is gearing to return back to his shooting schedules beginning with home-ground, Papa Dhawan directed next. We catch him in a quick chat about awards, Being Dhawan, Twitter and life after SOTY.
On winning his first Debutant award
Yes, it's very exciting and that it's for SOTY, sharing it with Sid makes it all the more special. (Clutches and gazes lovingly at the award) Your first movie, like your first love always holds a special place in your life and getting recognized for it in the form of an award is truly extraordinary. Thank you and let's hope it's the first of many to come (grins). Amen.
On awards ceremonies, hosting and performing.
It was unnerving initially having to host or perform in front of a large audience of people from the industry, family, friends, co-stars and knowing that you don't get a second take, but once we got used to it, we just decided to enjoy and make sure we entertained the audience.
Life after SOTY
Life hasn't changed much. At least my parents and friends keep it as normal as possible. It's true I don't get as much time as before. Between rehearsals, shows, shoots, there is no routine to stick to. But now is when the true test will start. Everyone tells me the first film was easy to get, while now every performance will be compared, criticized and whichever films I will sign will depend on my director's faith in my talent. I am prepared to take the criticisms as they come; I just want to concentrate on giving my best and keep doing good work,
On Main Tera Hero and future projects.
I play a street-smart character in the film, very opposite to the rich-brat of SOTY. We have started working on my character and I'm sure the audience will love this look. The film is in its pre-production stage and it's too early to talk about it. There are some more films that I am very excited about but we will have to wait for the producers to make the official announcements.
On being Dabboo's latest poster boy
It was an unrehearsed call and I was excited being the only male debutant to feature in the calendar. Dabboo brings a lot of life to stills and there is always a lot of happy buzz on the sets when shooting with him. We finished the shots faster than we had planned and everyone is happy with the way it's turned out.
On Twitter, fan-clubs and being a teen heartthrob
I was unsure about joining Twitter; it was Alia and Karan who pushed me into it. Now though I'm glad because I'm enjoying the personal connect I get with my audience which is important for any actor. I never imagined I would say this but I'm embarrassed. I don't quite know how to handle this attention, it feels great and all I can say is thank you for all the love and please continue to support me always.