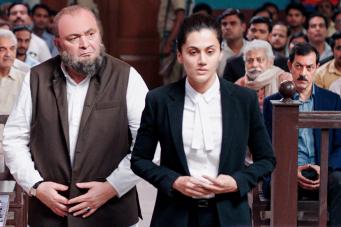 Directed by Anubhav Sinha, one of the films that has really intrigued fans is Mulk, starring Rishi Kapoor, who teams up with actress Taapsee Pannu for the thought provoking drama that raises questions about religion, patriotism and societal issues in India.
The film follows the story of a good Muslim family, headed by Rishi Kapoor's character. The family's son has been accused of planning a terrorist attack and as people begin to turn on them, courtroom proceedings begin. Defending them is their Hindu daughter in law, played by Taapsee Pannu.
Mr, Rishi Kapoor said in a recent interview, "We are not talking about any solution. We are just stating an issue and talking about it in general. I was just motivated to do the film because of the story and the cast. When Anubhav told me about the story and I like it, however, it was challenging."
Apparently, Mr. Rishi Kapoor was the actor the director had in mind while writing the script, "I always had him in mind for this character, but wasn't sure if he would do it because he likes slice-of-life films, while ours is a serious drama. When I narrated the script, I was nervous. But, he heard only one part of the script and agreed to do it. He is a surprise casting, and has done a phenomenal job."
Speaking on her role in the film, Taapsee has said that playing the role of a lawyer is her most intimidating role to date. Not only for the character and the depth of the issue but also to act with such an incredible cast. "The role was difficult because I was working with so many great actors at the same time. I don't get intimidated by a big star but by a great actor. We have actors like Ashutosh Rana, 'Chintu sir (Rishi Kapoor) in the film, Rajat Kapoor."
It was very intimidating for me to stand between 5 live cameras and to act these scenes with such legendary actors. This is the most difficult setup or a character I have played yet because I have not worked with such brilliant multiple actors together in one frame and one go."
Mulk also stars Rajat Kapoor, Prateik Babbar and Ashutosh Rana and all of the cast went through an extensive prep so that once they hit the set they were completely prepared. And they were because the film was shot in only 27 days!
Mulk is set to release in cinemas on 3rd August 2018.