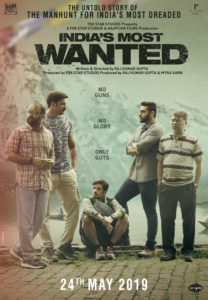 5 unlikely heroes, 4 days and India's Osama… this is the synopsis in the trailer of India's Most Wanted: a story based on true events of how an unlikely team of officers were able to track down and capture the most feared terrorist of the modern age on Indian shores. This is patriotism and humanity too; this is blind faith in the name of the flag and the human singular determination to put an end to evil. While the emotions are easy to build, its surprisingly difficult to put to music as it needs the perfect combination of lyrics and music to stir the hearts and remain in the minds., Amit Trivedi and Amitabh Bhattacharya must have had a lot of work ahead of them when crafting this album.
"Akela bhi hai tu kafi" trumpets Abhijeet Srivastava in the dark tones of Akela, the first song. The singer is alone standing out and above instrumental combinations of tabla and trumpet which is replaced by drum kit and mandolin for the verses. The song itself is not a new style for Amit Trivedi with listeners likely to find parallels back to previous works. Nevertheless, its not often in all of Bollywood history songs are written purely for 1 character with no mention or feeling towards another. The song doesn't go on too long, but also doesn't really do anything whether interesting or dull… everything is kept simple so no real quirks to speak of.
Where the first song was strong and steady, Vande Mataram is quite the opposite. 'Vande Mataram' has long been seen as India's national song all the way back since 1952 when it was first sung in Bollywood by a young Lata Mangeshkar. Papon and Altamash Faridi are asked to put the words to a tune over a military drum beat, with both bass and electric guitar in tow. Those words are about doing duty first above all else and showing might against India's opponents: "Dekhe kitna tere dushman mein hain dum". This song while taking the name of Vande Mataram certainly doesn't follow its predecessors in any form and seems to be in name only. However, from a listener perspective the chorus gets changed up so that the words "Vande Mataram" have effect but everything else is very repetitive. The singers are given no scope in what is an experimental piece and the instrumentation doesn't try anything.
Putting all the serious aside for a moment is the next song Dilbar Jani. Dev Negi and Nikhita Gandhi take to the mic, bringing a dancing, love song mood to what is most likely an item song. A loud horn section with a synth mix dholak overtake interesting and fun lyrics like "Angrezi mein bole hal-e-dil Hindustani". Look out for several film references in this song for various eras of Bollywood.
Final song of the album is Matvaare… the inevitable love song. Once again Amit Trivedi reaches into his previous albums for inspiration with flute and violins opening a path towards what is in the end a Punjabi folk tune. Jubin Nautiyal and Sanah Moidutty do their best to create interest with a peppy beat and synth accordion sound providing melody and a few little flourishes but this isn't likely to blow anyone away. This is nice when nice is what is needed.
Amit Trivedi does a lot of short albums with heavily limited scopes and must find a gem within them to unearth interest in his listeners. While in this album there wasn't much in the way of experimentation except for 'Vande Mataram', each song drives home on a particular state of being, whether that be astitva, masti or pyar to really try and get underneath the skin. In combination with the lyrics, his music finds a way again and again, without doing anything spectacular to weed its way in. None of these songs, nor this album match up to recent patriotic film efforts such as Uri, Manikarnika or last year's Raazi, but yet in 'Akela' there is the fortitude to fight, 'Dilbar Jani' is the light relief after great tension and 'Matvaare' reminds audiences of home even if they are in a foreign land.