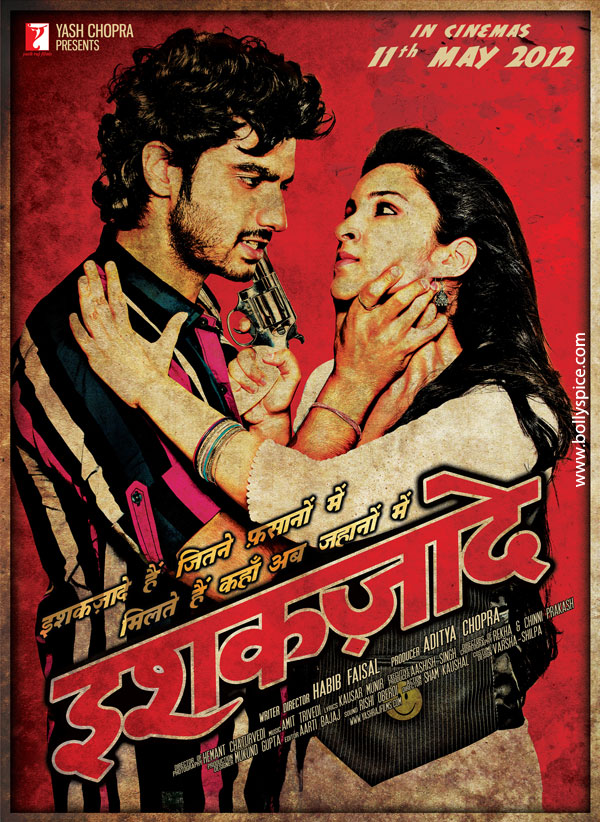 Romeo-Juliet. Laila-Majnu. Heer-Ranjha. Classic eternal love stories set in different cultures but with one thing in common – the strong will to unite and remain together against all odds. Habib Faisal brings us this old wine in a desi bottle as Ishaqzaade.
Like the Capulets and the Montagues, the small quaint city of Almore in North India is a witness to the enmity of the Chauhans and the Qureshis – strong political families who are contesting against each other. Joining the fray are Parmar Chauhan (Arjun Kapoor) and Zoya Qureshi (Parineeti Chopra) with hardcore hatred for the other. He, to please his grandfather. She, to please her dad. Like many love stories, this one starts with constant tiffs and face offs, but slowly the young couple fall for each other. Of course, the real test for their love starts here as both the families are hell-bent on destroying the love birds.
Having given us wonderful scripts in the form of Band Baaja Baaraat and Do Dooni Char, Habib once again brings an endearing, engaging story filled with sparkling characters and with the signature small town feel and language. The interactions between the characters are witty and many scenes manage to tickle you because of Habib's wonderful direction. However the screenplay staggers a bit, particularly in the second half. With an unexpected twist at the interval, one would have expected the same engaging pace post interval but alas, the story goes haywire – a scenario not uncommon in many Bollywood movies. The problem is the character reactions and actions often leave you a bit confused. The feisty Zoya who would rather yield a gun than sit at home turns into a soft, weak hearted woman in the second half. One would have expected her to go raging for revenge after being wronged – won't give any more details – but she is seen as weeping and forgiving. Of course, love can make you do crazy things but not many would buy this reasoning. Also for a love story, the character of Parmar is never really shown to be madly in love with Zoya to kill or get killed for her – it's more of a mother's dying wish which he seems to fulfill. And of course there's the climax which does look a bit forced and avoidable. It would have been great if Habib would have managed to give the clichéd story a non-clichéd ending.
If Ishaqzaade works, it's because of the wonderful performances by the actors, especially the lead. Arjun as the uncouth, foul mouthed, bad boy Parmar is endearing, often cute and brings freshness to his character. Yes, he does ham in some parts and you do feel he has the scope to learn more but his scenes with 'Joya', as he calls her, are fun to watch. But the star of the movie is beyond any doubt Parineeti Chopra. Having already proved herself in Ladies vs Ricky Bahl, expectations were high and I am glad to say she surpasses all of them. In spite of a shaky character sketch, Parineeti plays the angry, bindaas, in love Zoya to almost perfection. In fact, I believe the faults in the characterization give her more scope to perform, Since her characters in both the films are loud, 'muh-fatt' and tomboyish, there were chances of her being stereotyped. However, her post interval performance shows that she can play the silent, emotional, shy characters with perfect ease too. Here's a girl to definitely keep an eye on in the future. Gauhar Khan plays the supporting role of a dance girl with a gold heart – a character often reminiscent of old Bollywood movies – and does justice to her role.
If there's something that makes the performances even stronger then its Amit Trivedi's music and Hemant Chaturvedi's amazing cinematography which brings to life this love story on screen.
Ishaqzaade's story may not be new but there are moments which you love and the performances which stay with you. Do watch this for the new phataka, Parineeti Chopra.