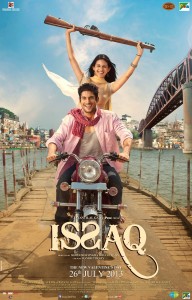 The most popular albeit tragic love story never fails to get the filmmakers' interest. This week the age old Shakespearean saga gets rendered onscreen once again by Manish Tiwary as Issaq . Manish, who had quite impressed us with his Dil Dosti etc, brings to us a desi, bloodshed filled love story of Rahul and Bachi (aka Romeo and Juliet) from the land of Benaras.
The story outline is pretty much the same with the Montagues and Capulets being replaced by the Mishras and Kashyaps warring on the holy banks of the Ganges. The two families, sworn enemies, need no reason to pull the trigger at one another. Amidst all this animosity, Rahul (Prateik Babbar) and Bachi (Amyra Dastur) fall in love with each other – a love story amidst the fight for power with tragedy written all over it.
The bigger tragedy however, is the disaster spun in the name of adaption of a classic. The movie fails from the word go and the reasons for that are so numerous that I don't even know where to start from. Sure, Romeo and Juliet belonged to warring families but theirs was essentially a love story with the backdrop of the feud. Issaq dwells too much into the politics and power and the love story takes a back seat. There are too many characters and too many sub plots which look like unnecessary additions to the movie. There is so much going on that none of the sub plots fully manage to make an impact. Add to that the over the top characters and the bloodshed – most of which unnecessary – and you know the two and a half hour flick is going to be an ordeal.
For a love story, the lead pair has absolutely no chemistry and this is where the movie takes another big hit. Ishaqzaade, another Romeo-Juliet inspired flick, had its flaws but it made an impact because of the amazing sizzling chemistry between Parineeti and Arjun. Here Prateik and Amyra disappoint you. As Rahul, Prateik seems to sleepwalk through the movie with a grin on his face. His dialogue delivery is shoddy and he makes you wonder if this is the same Prateik we saw in Jaane Tu Ya Jaane Na. Amrya looks sweet and makes a decent effort but we would need to see her more of her to know how good she really is. The supporting characters all try to salvage what they can from their poor character sketches. But apart from Rajeshwari Sachdev and to an extend Ravi Kisen, none of them really succeed.
For an audience already fed on too many versions of Romeo-Juliet and North gang-lord sagas, this one looks like a wannabe rehash of all. The less said the better. Shakespeare must be turning in his grave.