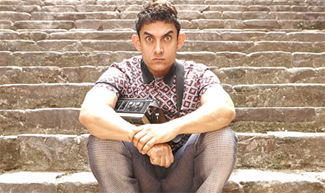 Bollywood's Mr Perfectionist Aamir Khan took time out from his hectic schedule to interact with the UK press at a video conference to promote his upcoming comedy/drama PK. Also starring Anushka Sharma, Sushant Singh Rajput, Boman Irani and Sanjay Dutt, the film is scheduled to release this Friday and is regarded as one of the most highly anticipated films of the year. Speaking to the UK press via video link from Mumbai, Aamir spoke about his experience of playing the much talked about character PK and more during this forum.
BollySpice was also at the video conference and managed to sneak in a few questions for Aamir about PK also. Read on to find out what he had to say!
Speaking about the challenges he faced whilst taking on his character, Aamir had this to say. "Well for one he doesn't blink so I had to do all my scenes without blinking which was a huge challenge for me. I don't want to give a lot away but what I can say is that it is probably one of the toughest roles I have ever played in my career. And I think to get into the reality of the character was probably the toughest for me."
Speaking more about the difficulty of getting under the skin of his character, Aamir mentioned the following, "In terms of physicality, that was something that we worked out and brought to the character. One of them is that he doesn't blink; the other is that he doesn't move his hands. But these are the physical things which ultimately go in to bringing the visual aspect of the character. One of the other challenges I faced was the language because I'm speaking Bhojpuri in the film. So I had to train and get the phonetics right of Bhojpuri. I had an expert Bhojpuri sit with me and read out each line and I would then write it out phonetically. It took me 3-4 months to make the lines my own."
BollySpice was also at the video conference and we asked Aamir about his experiences of working with Anushka Sharma, with whom he is co-starring with for the first time in PK. "Anushka is a really wonderful co-star," said Aamir. "She's totally focused on her work and has a really wonderful energy about her. I really enjoyed myself working with her."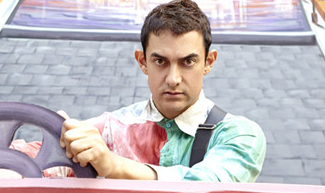 We also asked Aamir whether he would have agreed to take on PK had it not been directed by Rajkumar Hirani. Here is what he said in response. "I think Raju is very integral to this film. This film can be made without me, but it can't be made without Raju. He is really the force behind this film, not only as a writer but also as a director. Like his other three films, what he's saying is extremely dramatic but he chooses the vehicle of humour to convey what he wants to convey. But if your question is whether I would have agreed to it had it been someone else who had approached me with the same script? I can't imagine that to be honest (laughs). It's difficult to imagine someone else coming to me with this script. But hypothetically if some other director who I respected came to me with this same script then I guess I would have. But I find it difficult to imagine this without Raju."
Also asked about what challenges are left for him within the Bollywood film industry, Aamir had this to say. "Well I think for me I'm not someone who's really thinking out of Indian Cinema. I think we have such a large and healthy audience of our own and I have a very deep and emotional connection with that audience. I think there are innumerable possibilities of what stories we can tell to our audience in India. So I feel there is a lot to do here in Indian Cinema."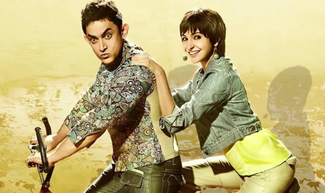 Aamir spoke about the challenges he has faced whilst promoting PK, especially since there he and his co-stars are obligated to keep the main plot under wraps until the film's release. "This film is especially challenging for us to talk about because we don't want to spoil it for anyone. And I would like the experience that you have of the film to be similar to mine when I read the script for the first time or when Raju narrated it to me for the first time. I was totally blanked towards what he was going to narrate to me. So the experience of that journey was quite beautiful and I don't want to spoil that."
Also talking about why he decided to sign up to the film, Aamir said the following. "It's a story that touched me and moved me. It made me cry. It made me laugh. It made me ask questions to myself. It was a very emotional experience actually whilst I was reading the script and I hope all of that has come in to the film. The character of PK is actually someone who I think Raju or Abhijat Joshi, the writers of the film, did not intend or plan it that way."
PK releases in cinemas this Friday! Don't miss out on one of the most eagerly awaited films of 2014! Check out the trailer below!
https://www.youtube.com/watch?v=82ZEDGPCkT8