A Love without life, or a life without love? Time is the strongest tests of relationships? Or something like that! Through Dil Toh Paagal Hai, Yash Chopra made famous the 'someone somewhere is made for you' belief. With Jab Tak Hai Jaan, he elucidates the concept of timeless love. Every relationship has its time, it's believed. If something is meant to happen or not is a trick of destiny, all you've got to give it is your honest best.
JTHJ is the story of Samar Anand (Shah Rukh Khan) tracing his life across a span of around 10 years–one as a young musician in London picking up odd jobs to make a honest yet cheerful livelihood while second as Major Samar Anand of the Indian army, where he's tagged as 'the man who cannot die' owing to his record of diffusing 98 bombs without any bomb suits or safety. While musician Samar is a carefree, extrovert, charming person who makes friends easily as he goes, Major Samar is a recluse, who mostly keeps to himself, playing the dutiful army officer one bomb at a time. Meera (Katrina Kaif) and Akira (Anushka Sharma) play the two loves, who enter at different stages of his life. What circumstances led the effervescent Samar to retreat into a life of solidarity, what's the emotional baggage he carries and what happens when the lives of the three characters intertwine forms the narrative of Jab Tak Hai Jaan.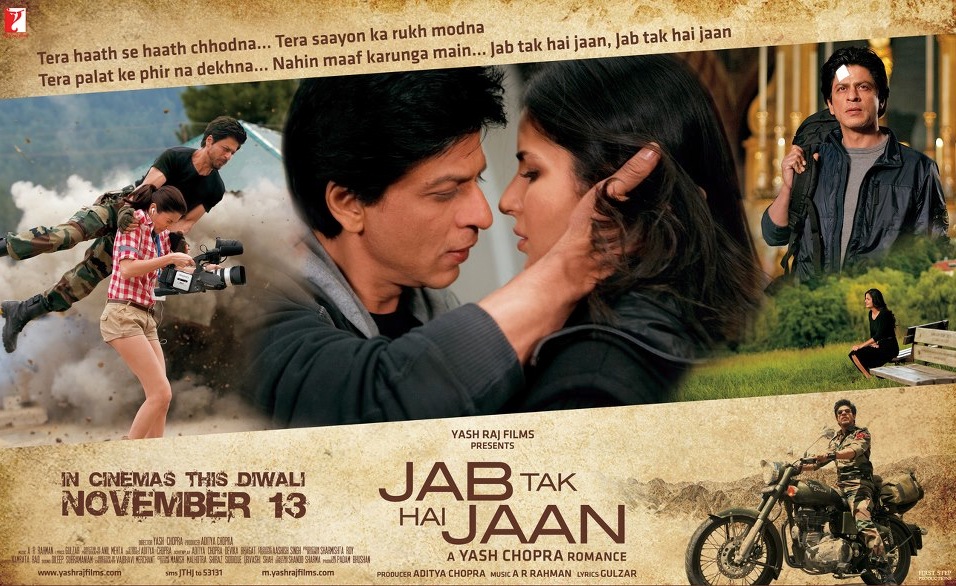 Of the two leading ladies Anushka scores over her co-star. Her character as a fiery bindaas daredevil is perfectly written and she makes it to her advantage. The chemistry she shares with Shah Rukh continues in the same vein from RNBDJ.. not too subtle, not too over-played, she is a complete pleasure to watch. Katrina is comparatively average. While her character has a graph which requires her to be restrained at most times, that is no argument, especially in her scenes with SRK, where she falls immensely flat and looks confused. Coming to the man of the moment, Shah Rukh, looking decidedly dapper in bow-tie as ruggedly composed in army attire, makes JTHJ all about him. Effortless in a character only he could've pulled off with so much élan, he adopts Samar's arrogance and confidence with equal balance, proving exactly why his name is synonymous with romance. There are moments in the film you feel sorry for him having to work against a tide of flimsy material and weak chemistry, but against all odds, he manages to wax coat with SRK charm. There is a lovely casting of Rishi and Neetu Kapoor in a cameo and while the scene was meant to be between Neetu and Katrina, Rishi Kapoor steals it with an endearing grin and a wave of a wine glass.
The somgs, composed by A R Rahman penned by Gulzar already well received, is magnified on screen. I am not a particular fan of the album in its entirety, but you can't help enjoying the beats when 'Challa' plays (yes, plural!) or tap your feet at 'Ishq Shava', packaged very well with trick choreography, which surprisingly Shah Rukh pulls off quite convincingly. What doesn't work in its favor is the songs are too close within minutes of each other. Especially in the first half where most of the tracks are stacked up, while 'Saans' re-runs in the background score of the second-half make them a tedious watch after a point of which you wish you could reach out for the fast-forward button.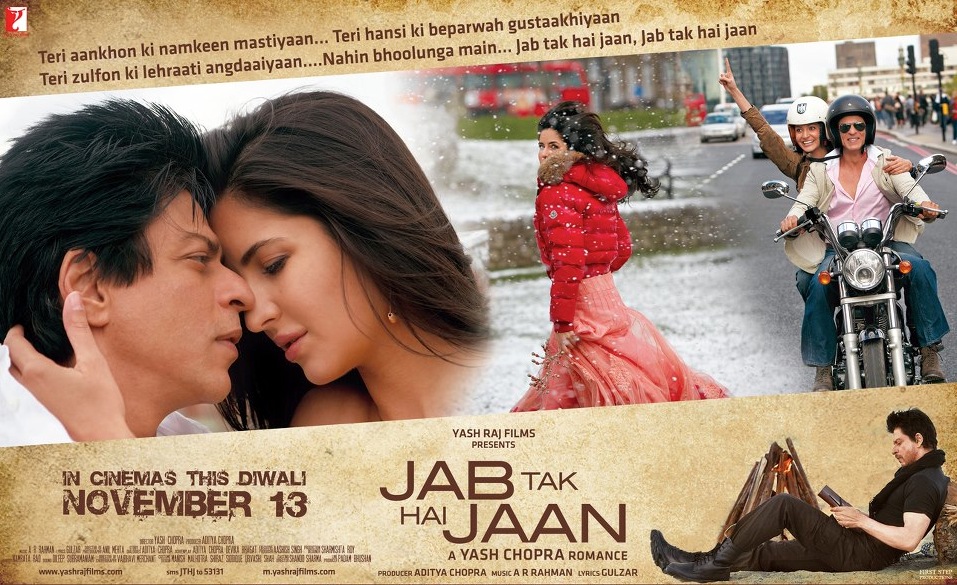 JTHJ is a Yash Chopra film of 2012. So the white chiffon sari is replaced with white night gown, Switzerland is traded for Kashmir, but the soul of a Yash Raj cinema is intact. At a gracious run-time of close to 3hours, JTHJ is a couple reels too long, but the filmmaker's zeal for cinema livens up the otherwise dull moments of the film. This is aptly put together in the end credits of the film, a montage of the film's making which shows Yash Chopra's excitement every time he screamt action, or the candid joyful expressions of seeing his actors enact his vision. Beneath a very routine motorbike sequence in the bare terrains of Ladakh, or a simple conversation at a park in London, there lies a Yash Chopra charisma that simply can't be stripped off or ignored. 'If you're not happy, you cannot make anyone else happy', a character says. Yash Chopra knew this too well. He enjoyed his work, he was happy, he tried to make sure others were happy as well thru his cinema.
For those with pre-conceived notions of this being an out-and-out soppy romantic tale, the screenplay by Aditya Chopra and Devika Bhagat is much more than that. In the midst of a love triangle, there is a story of survival, a tale of letting go, moving on, embracing life as it comes, questioning of faith, challenging of religious beliefs all done without any hum-drums of cheap innuendos, gags or toilet humor, just in shades of pristine white purity. Loaded with references from Yash Raj classics, maintaining an old world sincerity, JTHJ also treads into sub-plots of extra-marital affairs, a barter-trade like relationship with the Almighty, etc. Undoubtedly, the romantic scenes stand out the most, treated with substance and maturity in the experienced hands of Yash Chopra, executing them the way YRF knows best.
JTHJ will possibly not be heralded as a landmark film, it won't run for weeks together like its other predecessor from the production house; however it's one of the better romances to come out of Bollywood in recent times. Yes it's sloppy, yes it's amusingly clichéd, loopholes/facts hard to look past, but SRK makes it work, one aviator-clad stubble form, one honest act, one engaging performance. Maybe sometimes that's all there is, Jab Tak Hai Khan.