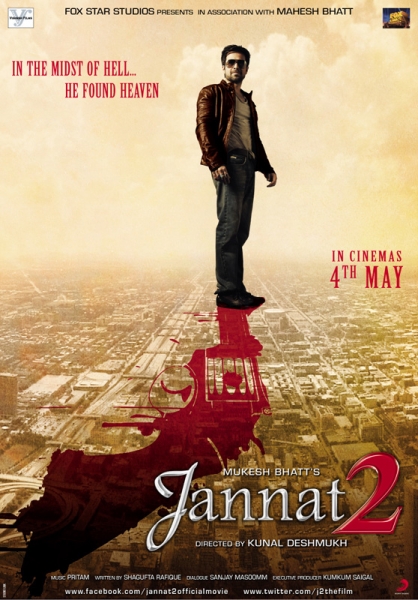 No, Jannat 2 is not a sequel to the 2008 hit. However, at the same time, yes, it has the same basic premise and Emraan Hashmi reprises the role of bad boy wanting to turn a new leaf for his 'Jannat' in this Kunal Deshmukh production.
Sonu Dilli KKC aka Hashmi knows the A to Z of guns and is a successful dealer. Inspector Pratap (Randeep Hooda) is a guy with a past who is hell bent on wiping off the gun dealing mafia. Enter Jhanvi (Esha Gupta), a simple-minded doctor for whom Sonu falls but is unable to be with her as she wants to live a clean honest life. In a bid to win over Jhanvi, Sonu agrees to become an informer for Pratap and help expose the mafia leader.
The outline being pretty much the same, Jannat 2 is however more entertaining than the previous from the franchise. Shagufta Rafique's story is crisp and peppered with engaging dialogues keeping in mind the essence of Delhi and its language. Of course, although no sentence in Delhi is complete without the 'BC' abuses, one wishes they had toned it down for the audience just a bit. Parts involving Emraan and Randeep are more interesting but the love story track dilutes the screenplay often making it slow. Kunal Deshmukh manages to give us a story which is definitely more believable with deft direction and some wonderfully engaging sequences – what out for the chase in the first half where two sets of policemen follow Emraan and the one in the durgah. Cinematography is decent, the music, though definitely not as popular as the first, is still pretty melodious and it was good to see that songs did not further slow down the film.
Let's talk about the performances, Emraan plays his bad boy, Romeo role once again and with the added mischievous spark required. I have always stated that he was a good actor caught in bad films and after Once Upon a Time In Mumbai, The Dirty Picture and now Jannat 2, I hope that he can finally silence his critics. With many witty dialogues to his credit, Emraan manages to keep you engaged. But one person who would shock and surprise you with his performance is Randeep Hooda. Hooda shines and how! As the cynical, serious, angry police officer, Randeep gives his best performance to date. Esha has very little to do and needless to say, being her first film, she hams in some part. In fact one sees more chemistry between Emraan and Randeep than between her and Emraan. However, her attempt is commendable and one only hopes that she learns and improves. Manish Chaudhary as the villain Mangal Singh Tomar is decent although it's time we do away with the over the top, eccentric villain caricatures. Mohammed Zeeshan Ayyub who played Manu Sharma in No One Killed Jessica is endearing as Sonu's friend Balli.
With a gripping first half and a slightly dragging second one, Jannat 2 has its share of pluses and minuses. My suggestion? Go watch this for the wonderful performances of Emraan and Randeep.