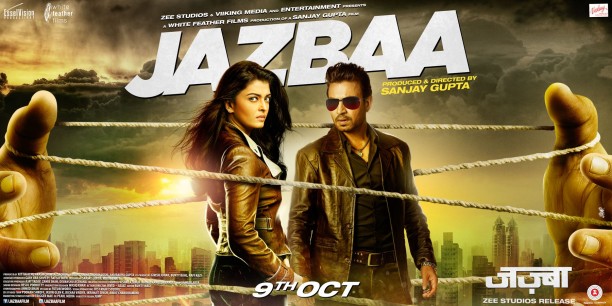 Ever since this film was announced, the hype surrounding Jazbaa has been almost surreal. The film sees director Sanjay Gupta (Shootout at Lokhandwala, Kaante, Musafir) working with Aishwarya Rai Bachchan for the first time with a stellar cast of national award winning actors Irrfan Khan and Shabana Azmi. Jazbaa is an action thriller with a hard hitting storyline. Its soundtrack is however, is very soothing to the ears with songs that are not over the top at all. Jazbaa is not the kind of film that would rely on music to influence its plot/storyline. It is a thriller and often with these kind of films we hear fast paced/dramatic songs but in the case of Jazbaa, the music is totally the opposite.
Bandeya – Jubin (Amjad – Nadeem)
'Bandeya' is the first song that released from the album and from the promo itself, one could tell that the song would be played in the background and not mimed by the main characters. A soulful melody by newcomers Jubin, Amjad and Nadeem, the song has an extremely hummable melody with soothing guitar and soft vocals and good lyrics. The reprise version of the song is sung by Asees Kaur and it is equally melodious! This is definitely my top favourite song from the album. 'Bandeya' is picturised as the song that tells the struggles behind Aishwarya's character in the film.
Kahaaniya – Arko ft Nilofer Wani
Composer Arko Pravo Mukherjee is back to giving us the songs he does best (he took a break from light melodious numbers and gave us the forgettable 'Paani Wala Dance' earlier this year). With singer Nilofer Wani on the vocals, 'Kahaaniya' is an inspirational song with a melodious guitar arrangement and strong female vocals. This is definitely my second favourite of the album.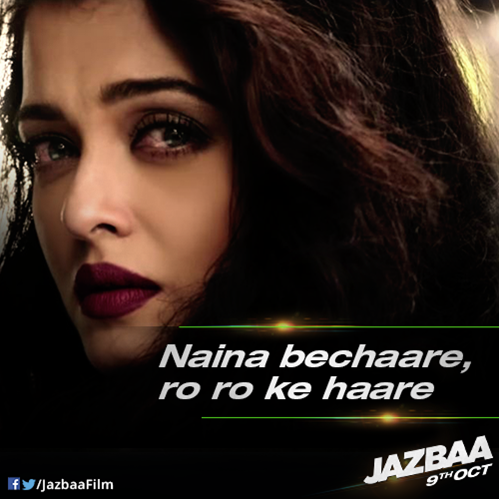 Jaane Tere Shehar – Arko ft Vipin Anneja
Just when you thought the tempo couldn't get any slower, along comes a ghazal  'Jaane Tere Shehar'. Upon listening to this track, I almost immediately remember late ghazal maestro Jagjit Singh. This is another beautiful composition from Arko with vocals from singer Vipin Anneja.
Aaj Raat ka Scene – Badshah ft Shraddha Pandit
This is the only upbeat song of the entire album. After giving us the club hit 'Abhi Toh Party Shuru Hui Hai' from Khoobsurat, Badshah is back with another party number and this time with Shraddha Pandit on the vocals. Sadly this song does not feature in my favourite list and if anything it that can be skipped quite easily when listening to the album.
On the whole, Jazbaa is a pleasant album to listen to with soothing melodies and one club track. My picks are 'Bandeya' (both versions) and 'Kahaniyaa'.