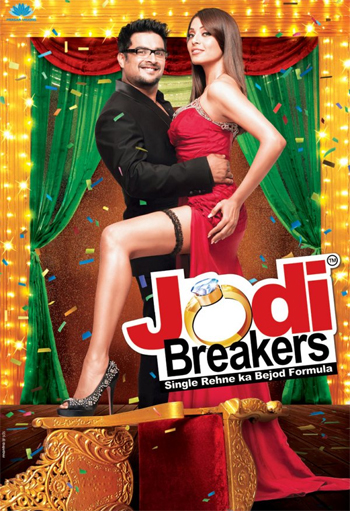 Unusual pairings often involve a big risk. They may work, they may not. And affect the movie big time. This week's release, Jodi Breakers, brings together the sweet, chubby Madhavan and the sexy Bipasha Basu as the professional couple to are out there to help troubled couples.
Sid (R.Madhavan), a recent divorcee, thinks marriage is a one way ticket to ruin your life and helps breakup the marriages of those who think so too. Enter Sonali (Bipasha Basu), who though with an opposite view, teams up with him to break the jodis of unhappy couples as painlessly as possible. All's well until a case they take up ends wrongly and they take it upon themselves to fix the mess they created.
If you look at the basic storyline closely, it pretty much resembles the 2010 sleeper hit Band Baaja Baaraat. Boy and girl come together as business partners – only here it's to breakup marriages and not make them – they do well, celebrate, get drunk and end up having sex, girl in love but boy is not, they breakup the partnership but come together to do that last one deal. Having said that, Jodi Breakers is not even close to Band Baaja Baarat in terms of story and execution. It's one of the movies which has potential but doesn't quite make it. Ashwini Chaudhary, whose earlier work was the disaster Good Boy, Bad Boy, definitely improves in terms of direction but still it's quite messy. The movie doesn't stick to one genre which works against it. It's not fully a rom-com, not a drama nor a sex comedy. It just hangs somewhere in between. The movie works in bits and parts but never as a whole. As a writer, Ashwini hasn't exactly added anything new although the twist before the interval does make the movie more interesting. Dialogues are funny, often too filmy. Music by Salim-Sulaiman is decent although the picturizations of the songs are really tacky. Kunwara, which is one of the favorite peppy numbers of everyone is ruined by the way the song has been filmed. Cinematography by Arun Varma is good especially the way Greece has been captured.
Coming to the performances, the Madhavan-Bipasha Jodi somehow doesn't work. You just can't point out what is exactly wrong but something, somewhere there's definitely a miss. Maddy has always been a wonderful actor and he shines in this movie as well. I just have one teensy problem. Why did a cute guy like him have to be all pudgy and double-chinned when he could have looked the sleek suave guy his character definitely is? Bipasha as usual, well, looks sexy
although unlike her many recent films, she plays a simple sweet girl. Manages it pretty well most of the times however some scenes – like the drunk sequences – you know she has to improve. Omi Vaidya (playing Nano), I have one request for you. Please get yourself a new gag and try to do so before you are stereotyped. It is not funny anymore. Omi tries a 3 Idiots-kinda speech which though not half as hilarious is the only scene which comes out funny. Milind Sonam and Dipannita Sharma play their parts decently and surprisingly come across as a realistic couple. Mrinalini Sharma as the vamp delivers what she could in her limited role, Helen as the stern grandma is adorable and the support cast is passable.
Overall, Jodi Breakers could have turned out to be a pretty hilarious ride. However due to faulty writing and direction what you get is a half-baked meal. A one-time watch.