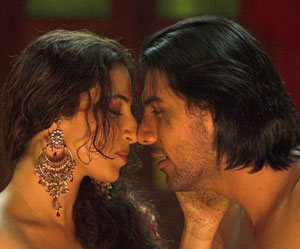 It was recently announced that John Abraham will play the role of the dreaded gangster Manya Surve in the sequel to Shootout At Lokhandwala, and director of the film Sanjay Gupta wants Vidya Balan to star opposite the actor.
Speaking to the media Sanjay Gupta said, "I'm going to make sure that Vidya acts in the movie. I will beg, borrow, steal and threaten to rope her in. I only have her in mind to play the character. And Vidya is a good friend of mine, and she also has a longstanding promise that she'll work on my next project."
John Abraham and Vidya Balan were last seen together on the big screen in 2007 in the film Salaam-e-Ishq. However, after rumours did the rounds that the two actors were having an affair the two never worked together again.
Now if all goes ahead then Vidya Balan is set to take on the role of a widow with two children and Manya Surve's girlfriend.
Sanjay Gupta also spoke to the media about the sequel saying, "Shootout At Wadala is set in the '70s and '80s. It's not just a shootout it's a saga. In Lokhandwala, the story was basic with an elaborate climax. Manya's life will serve as a great story too. And no one can say I'm forging a story. Every detail is present in the police files."
Shootout at Wadala is set to go on the floors in December 2011 and will star Anil Kapoor alongside John Abraham.