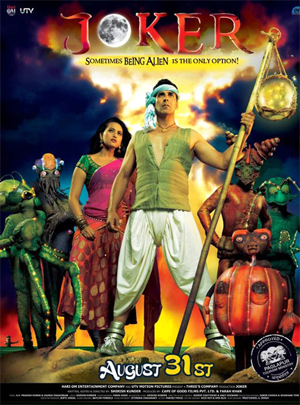 The last time aliens landed in Bollywood, Jaadu had managed to win the hearts of both the kids and grownups alike. Shirish Kunder's oddly (but aptly) titled venture boasts of a few aliens itself. So, would the audience warm up to them?
1 hr 45 min long, Joker has a very simple storyline. Agastya (Akshay Kumar) has been trying to contact the aliens unsuccessfully. His father's ill health brings him to Paglapur – a place that no one even knows exists. Agastya, in a bid to help his village, carries out a plan that would bring Paglapur on people's radar. The promos gave away quite a lot of the story beforehand so I am not going to divulge much further.
The premise of Joker is so crazy, quirky and unbelievable, that if it had been handled correctly, it would have been an absolute fun to watch. Sadly, Shirish prefers to go the predictable route each time there is an important turn in the movie. Somewhere it seems the director got confused as to how much real or fantasy he wanted in the movie – going the middle way which definitely does not help. If one goes to observe every department – from music to choreography to editing – everything is pretty much average. The cinematography does promise you of a different fare in the beginning but once the second half sets in, you know what to expect.
Akshay as Agastya is good and I am glad his performance was constrained. Sonakshi doesn't really have much to do (again!) apart from sing and dance. We do hope this talented lady finds a movie soon where she actually gets to contribute something. Shreyas Talpade is sweet although his character reminds you of Tusshar's and even his own in Golmaal series. The rest are passable, some of them often hamming but thankfully none get a screen time enough to bug you.
I won't drag my review long. With a baseline that sounded interesting enough, I was hoping for a more entertaining and enjoyable fare. Although really not that bad as some are making it out to be, there is no doubt that this Joker could have been funnier.