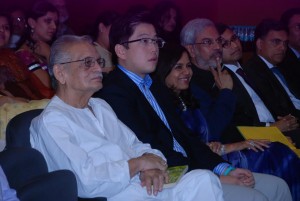 JSW Foundation and National Geographic Explorer today hosted an event focused on the imperatives for engaging science and environmental education for today's young minds. Dr. Francis Downey, Vice President & Publisher, National Geographic Explorer emphasised the relevance and importance of the 'Explorer' learning platform. Also at the event, India's greatest poet and lyricist, Shri Gulzar launched his new book of poems on the environment.
Mrs. Sangita Jindal, Chairperson, JSW Foundation, said "As an organization, our sole motive for this event is to encourage dialogue and patronize like-minded organizations and take another step to the cause of climate change and enable a platform for debate on the ways and means to save the environment. We will be introducing the National Geographic Explorer program in all of our JVM schools to encourage awareness for Mother Earth and the importance of conservation."
Dr. Downey added, "This is a great opportunity for National Geographic Explorer to align with people who have a deep concern for the environment and are able to provide a platform for debate and discussions. Love and respect for nature is critical for the next generation of individuals to grow into socially and environmentally conscientious members of society. At National Geographic Explorer, we intend to develop more advanced tools to educate students about Science and Environmental Education."
The National Geographic Explorer, also known as the 'Explorer', is a unique learning platform that has been designed and developed by National Geographic Learning, USA to teach Science, Geography, Environmental Studies and English. It is available in 4 graded reading levels for students from Junior KG to Class X in print and digital editions. Students are engaged, and discover science and the natural world through the unparalleled Explorer content, while the School receives a host of teaching aides, online support and resources for their teachers. Read by 7 million students across the world, this valuable resource is now available in India.
About JSW Foundation:
JSW Foundation, an integral part of the Group, is the social development division of the Group. It is an independent institution and is governed by Board of Trustees who is drawn from the senior management of the Group. JSW is committed to enhance the quality of life of communities around its operations. The Group is conscious that the local community is not homogenous, so varying layers of social deprivation and marginalized needs to be identified, understood and valued from an anthropological and sociological perspective. The initiatives endeavour to create long term value for its businesses and society and strive to: Assess impact of its operations on local agriculture, biodiversity and health through periodic third party impact studies and other research studies with special emphasis on benefits to women and the deprived sections of society.