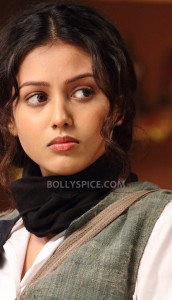 Unit of 150 artists and technicians of Subhash Ghai's Kaanchi moved to the valley of flower in Uttaranchal to visit house of Kaanchi and shoot her love story by picturising songs and scenes by director Subhash Ghai.
Subhash Ghai new find Mishti plays the title role of Kaanchi, she was seelcted out of more than 350 girls personally interviewed by Subhash Ghai himself from all India. It's a dramatic journey of 18 year's old from mountains to metro city from innocence to realization, evolution followed by revolution which wakes up and inspire today youth against corruption of power. It's a entertaining film with a deep message behind it.
Ismail Darbar and Salim Suleiman provide the music with ethnic and modern flavor on the lyrics of Irsha Kamil. Rishi Kapoor and Mithun Chakraborty play the Power in money and politics.
Kertik Tiwari, Rishabh Sinha and Chandan Roy play men in Kaanchi's life. The film will be released on 30th August 2013, Subhash Ghai is making this magnum film after 4 years! In his inmitable and introducing a new beauty Mishti after grooming many Big Stars like Madhuri, Meenaxi, Mahima, Manisha, Aishwarya, Kareena and Katrina in Yaadein and Yuvraaj.
"Mishti is one of the most talented new heroine I found ever .. she is just fantastic. You have to see her performance in kaanchi to believe me .. she is another superstar in the wing this year" claims Gubhash Ghai confidently .
For more: www.facebook.com/KaanchiTheFilm
Twitter: www.twitter.com/imkaanchi