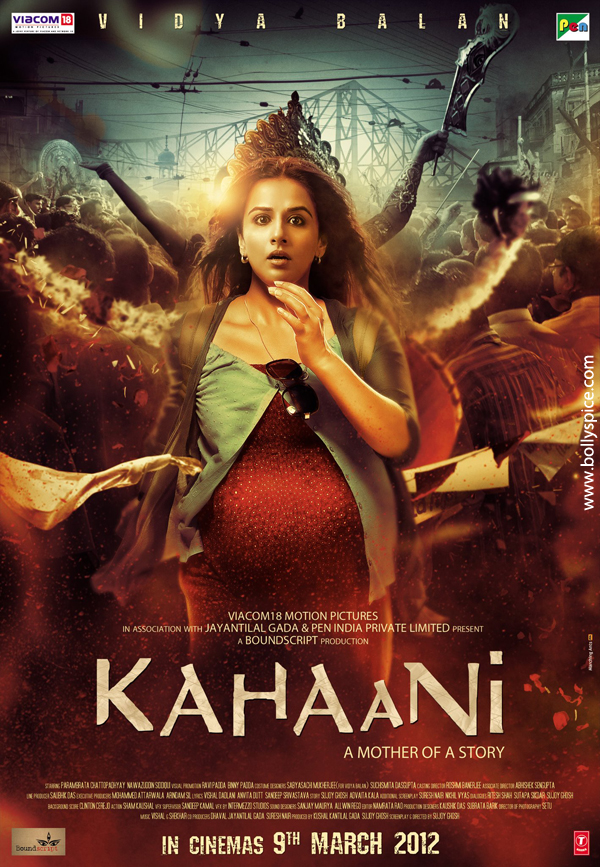 Bollywood isn't exactly popular for good thrillers. Very few of those who claim to be of this genre actually manage to shock and surprise you with their storyline. Without doubt, Kahaani belongs to this elite group. From the moment of its amazing opening sequence you realize that this one is going to be an enjoyable roller coaster ride.
Sujoy Ghosh, who last awed us with his Jhankaar Beats, indeed brings to us 'the mother of a story' in Kahaani. Vidya Bagchi (Vidya Balan), heavily pregnant but determined, arrives in Kolkata in search of her missing husband. But was seems to be a simple missing person's case turns out to be more twisted and complicated than expected. It's Kolkata so yes, anything can happen. With things not what they seem to be and people not what they appear like, Vidya has to fight a lone battle and against time to find her husband.
Any thriller, no let me correct, any movie is made or marred by its opening and its climax and Kahaani has both brilliantly written and shot. What makes this such a winner is the fact that it' is good both in story as well as execution. Sujoy and Advaita Kala's storyline and Suresh Nair and Nikhil Vyas's screenplay make Kahaani an engaging affair.  Sujoy brings to life not only the characters but also the streets and the alleys of Kolkata with utmost sincerity. It's not difficult to see the level of detailing to which he has paid attention. Whether it's the Durga Puja, the characters and their accents, the clothes, the hair, the make-up…nothing looks out of place. With enough twists and suspense to keep you engrossed, Sujoy makes sure that you remain glued to the screen.
If one is to talk of the performances, Kahaani is one of the few films in which each and every character – even if it's a two minute role – has been true to the role and delivered it well.
Parambrata Chattopadhyay as Rana, a helpful police officer shines in his nice guy, silently enamored character and is a good find. Nawazuddin Siddiqui as the rough-talking-tough guy proves once again after Paan Singh Tomar that he can carry off just about any character with ease. Dhritiman Chatterjee, Saswata Chatterjee, Indraneil Sengupta and Darshan Jariwala do justice to their roles as do the small characters like the guest house owner, the two kids, the HR head…never do the actors ham and haw. But of course, the star of the movie and the one who single handedly carries the film on her shoulder is the super talented Vidya Balan. Mind you, it's Mrs. Bagchi you see on the screen, never Balan. Looking convincing as a pregnant woman, Balan emotes a range of performances from anger to happiness, fear to determination – Vidya shows that she can do it all. Never once do you see her uncomfortable or out of character whether it's the scene where she silently breaks down, or her frustration on not being able to drape a saree properly or the climax. I could go on and on but for someone who gave us great performances last year in No One Killed Jessica and The Dirty Picture we know that she has truly arrived.
And let's not forget one of the biggest and important characters in this movie – Kolkata. This city plays an integral part in the unfolding and the continuation of the story. Setu's breathtaking cinematography brings to life this mysterious city with its old world charm where, as Usha Uthap rightly sings while introducing this city,'Dil ka bazaar hai, thoda bizzare hai, Kolkata khwaishon armanon ka aachar hai' .We have seen Mumbai and Delhi been a part of many films but never before has the City of Joy been portrayed the way it has in Kahaani; the small quaint streets, the people (for whom Bidya and Vidya are the same), the Howrah bridge and of course the Durga Puja – Kolkata is served to you as a delicious dish.
Vishal-Shekhar's music complements the mood of the movie and it is good to see that the songs don't mar the flow of the story. The only point against this movie is perhaps the editing. Kahaani, in actuality, isn't a very long film (about two hours). But somewhere in the middle you tend to get a feeling that the movie has turned a bit slow. A little bit of snip-snip and a little bit of more pacing would have worked wonders.
Nevertheless, Kahaani is an amazing product AND a great entertainer. Watch it for Sujoy who delivers his best till date. Watch it for aamhar Kolkata which looks dangerous and sexy. Watch it for Vidya, who like music director Shekhar said, is the new hero.