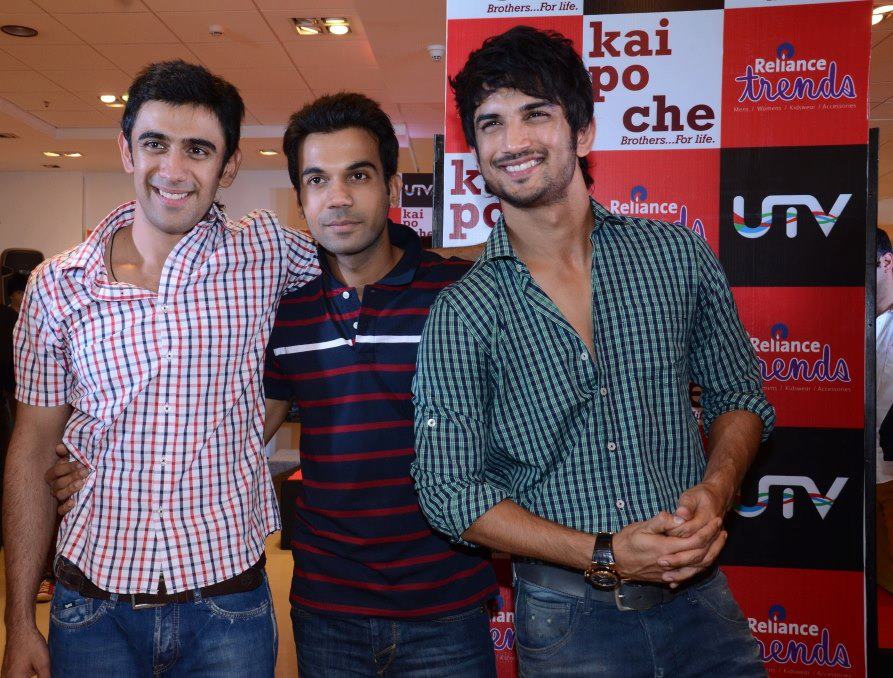 Last Friday's most awaited movie, Kai Po Che had its own clothesline launched recently by the star cast from the movie – Amit Sadh, Rajkumar Yadav and Sushant Singh Rajput – in a fashion show at Reliance Trends store in Infiniti Mall, Mumbai.
The afternoon saw the best of the collection being displayed through a live fashion show by models showcasing Reliance Trends' newly launched SS'13 collection followed by a fashion show by the lead cast. The stars also interacted with the audience and shared some special moments from the film. Niharika Khan has designed the clothes of the three characters and the cast was happy that each look accentuated the character's personality. "There was nothing there just for adding some glamour," Raj Kumar said. Amit Sadh admitted that he was a bit nervous while walking the ramp but it was fun too. The camaraderie between the three was easily visible as they continued asking each other questions instead of the press! So when Amit asked Sushant the meaning of Kai Po Che he replied, "The entire movie is over and you are asking the question now! Kai Po Che is a victory call in Gujarat whenever somebody cuts a kite. This title is apt for the movie as these three friends have their dreams and how unke sapnon ki patang (kite of their dreams) is cut by destiny forms a major part of the story."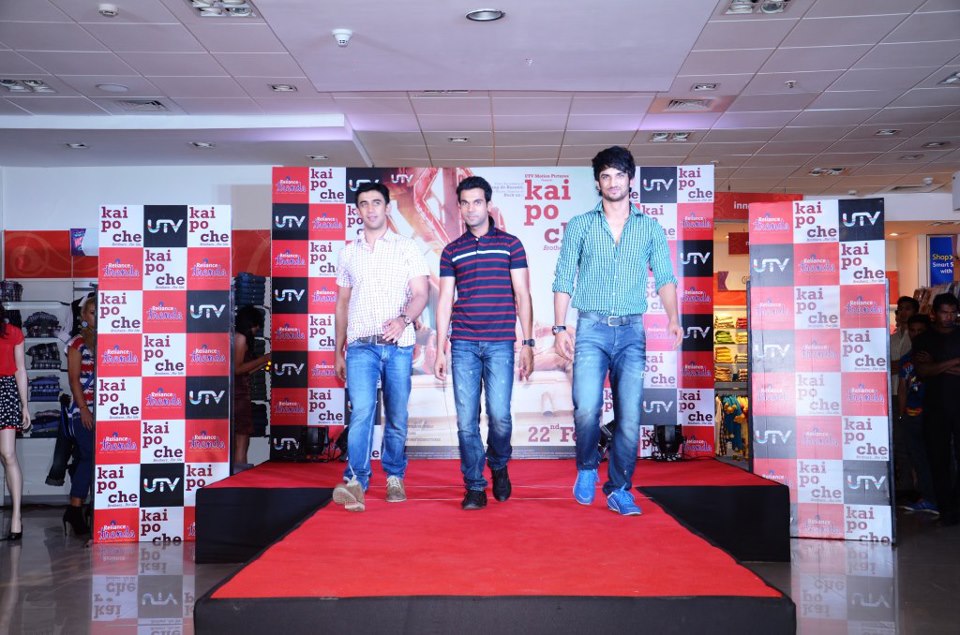 The three were definitely excited and anxious about the premiere later that day as Sushant admitted, "We are excited to show the film to everyone. It's a new story that we want to tell everyone." Raj Kumar Yadav added, "Aaj who din aa gaya hai jab poori industry dekhegi film ko. We are waiting for the response – fingers crossed!"
Inspired by the movie, the highlight of the collection is the wide range of check shirts as seen in the movie worn by stars and premium cotton linen shirts in wide range of pastels colors starting at just Rs.799. Well, so what is the most fashionable thing about the movie we ask. "Definitely the friendship," says Amit signing off.
The film has opened to fabulous reviews, be sure to check out what we thought!