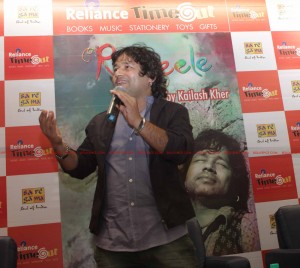 Reliance TimeOut presented the launch of musical album Rangeele, by Kailash Kher's music band 'Kailasa', at Reliance TimeOut, store in Mumbai.
Rangeele a music album about the very unique aspects of love and its many shades, is a collection of 12 songs, with romance and love as the central theme, that evoke devotion, patriotism, dedication, happiness, celebrations, and many such feelings.
An electrifying musical treat awaited the visitors following the launch of the album. Kailash Kher's music band enthralled the audience with a stunning performance from the latest album Rangeele. The troupe had the audience spellbound with their rocking numbers and foot tapping performance.
In a previous interview during the launch of the album by none other than Mr. Amitabh Bachchan, Kailash Kher said, "This album is extremely special for me for various reasons. Among the most powerful being that the artistes featuring in this album also include the unbelievable Mr Amitabh Bachchan. It also features my two-year-old son Kabir and is the first album on our own record label, Kailasa Records. Rangeele is my gratitude to all my listeners since this is a reflection of my observation of my fans through my eight years of career journey. I have tried to reciprocate the love and goodness they have extended to me and my band."
On this occasion, Mr. Dipak Marwah, VP & Business Head, Reliance TimeOut, "We are honored to launch Kailash Kher's Rangeele music album and have him with us today in our store. Reliance TimeOut has always been part of exciting events which appeal to our customers & engage them – through such musical evenings, book launches, topical discussions and other interactive activities in our stores. We are sure that music enthusiasts will enjoy listening to Rangeele and this album too, like his earlier ones will receive an overwhelming response and rave reviews for the mind blowing compositions and tracks."
The singer who is busy with concerts lined across the country also plans to take the album to foreign shores. "This is Kailasa's first big international tour," says Kher, who will be performing with his band in Thailand.
Reliance TimeOut, the books, music, stationery, toys and gifts store of Reliance Retail is the one stop destination of books, music and stationery enthusiasts. It offers a huge range of choice to customers across cities in India with books, movie and music titles, Stationery Items, Toys, Gift articles including Fragrances, Watches and Fashion Jewellery.