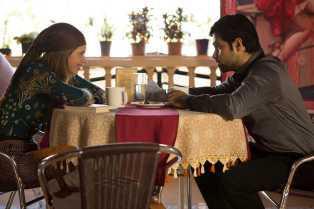 Kalki Koechlin will be seen lip syncing a song for her upcoming film Ek Thi Daayan for the first time. Strangely Kalki, who has been in Bollywood for quite some time now, has never lip-synced to a song before, all the songs that she has shot for have been tracks that have been played in the background. In Ek Thi Daayan she will lip-sync to 'Yaaram', additionally picturised on Emraan Hashmi & Huma Qureshi.
Quiz Kalki about the song and she says excitedly, "I am looking forward to watching the rushes. I spent a long time working on the track because I also play the guitar in it. I learnt the chords and then lip-synced for the vocals. It was great fun especially because I was doing in fornt of the master of lip syncing – Emraan Hashmi. This is also why I had to practice extra hard."
Incidentally Kalki plays the guitar in real life too. "I play the guitar in rel life so it was fun for me to bring out my musical side to the song 'Yaarun' I learnt the chords and played them while singing. I had to focus on giving the expressions my director wanted rather than looking down at the guitar. It took quite some co-oridnation to get right."
The lyrics of the catchy song go 'Hum cheez hai bade kaam ki yaarum, hame kaam pe rakh lo kabhi yaarum." We ask her if the song made her feel like a 'typical Bollywood heroine'? She laughs and says, "It's not your typical romantic number. We didn't dance to it. My character in the film is a musician and so she's performing at a party. It was shot realistically."
Kalki has also never been seen in a typical song and dance number so far but she reveals with a smile, "My next step is singing and dancing. I am doing that in Yeh Jawani Hai Deewani. There's a dance number with everyone in the cast which is full masti Bollywood style."
What about a solo dance number is she game for it? "If something exciting comes my way why not. I am not opposed to be doing a dance number but it has to be something I can do convincingly to do it well," she adds.
Directed by Kannan Iyer, Ek Thi Dayaan also stars Huma Qureshi and Konkana Sen Sharma and is expected to release on April 18.