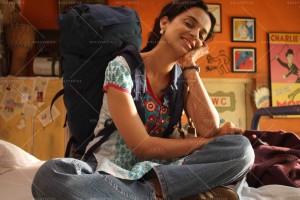 Indian cinema presents one of the most delightful and upbeat female-centric films of recent times, bearing all the hallmarks of an iconic piece of filmmaking. Reflecting today's India, sitting between modernism and conservatism, from the perspective of a charismatic female protagonist, Queen releases in cinemas on 7th March 2014, to mark Women's Day (on 8th March), produced by Viacom 18 Motion Pictures and distributed internationally by B4U.
Directed by maverick filmmaker, Vikas Bahl, whose previous directorial projects include the globally lauded Chillar Party, Queen is a charming, romantic comedy that represents new wave Indian cinema at its best, sure to be unanimously welcomed by contemporary Indian cinema connoisseurs as well as world cinema audiences and critics globally, in the same vein as previous foreign language successes such as Amelie and the 2012 Indian film hit, English Vinglish.
At the helm of Queen and reigning over the screen is the irresistibly loveable Kangana Ranaut, delivering her most formidable role to date and set to rule the hearts of audiences with her essay of a small-town, Indian girl about to embark on a journey of self-awakening and self-discovery that will change her life forever. Joining her onscreen are two of the finest artists among the new generation of Indian film talent – Rajkummar Rao and Lisa Haydon. Queen beautifully conveys a contemporary India caught at the crossroad of modernity and traditionalism, oozing charm and feel-good warmth, perfectly accentuated by a melodious and breezy soundtrack by composer Amit Trivedi.
Synopsis
'Rani' (Kangana Ranuat) is a 24-year-old born and brought up in a conservative, Punjabi family residing in Rajouri, New Delhi. Being the only girl in a traditional family unit, she has always been protected to such an extent that even a trip to the grocery store around the corner requires her mother asking her younger brother to accompany her. The typical, 'Chintu, zaraa Didi ke saath chale jana' scenario.
Rani's sheltered life revolves around her Home Science course at college, her collective of female friends and her father's 'mithai ki dukaan' (sweet shop). Like any other girl, she dreams relentlessly of the perfect guy to tie the knot with before embarking on her honeymoon – a life milestone for which she has been saving up since class 9.
When she reaches suitable age, her parents introduce her to 'Vijay', the son of their close family friend, and after persistent coaxing and the typical-boy-trying-to-impress-girl routine, Rani begins to fall for Vijay and, in her mind, accepts him as her beau. Engagement follows with the wedding planned for six months later, as Vijay is imminently posted to England as an engineer. So with dreams of her wedding and well-planned honeymoon on the agenda, Rani and her family kickstart the preparations.
As the dates approach, with relatives and functions in flow, Vijay returns for the wedding but calls it off at the 11th hour, citing a mismatch of interests and lifestyle. Rani is unable to come to terms with the jilt. Her entire family tries to console her with the typical reassurances. Then, taking her life and destiny in her own hands, she decides, impromptu, to go for her meticulously pre-planned honeymoon… by herself. A girl who has never been out in Delhi unescorted by her younger brother now leaves for a foreign land to embark on a life journey filled with experience and adventure.
Join Queen on her journey of self-discovery on 7th March 2014, produced by Viacom 18 Motion Pictures and distributed internationally by B4U.